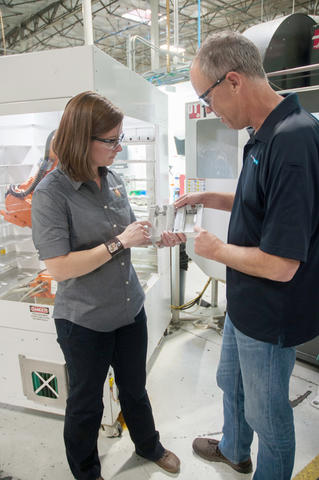 NIST's extramural programs, which include Manufacturing USA, the Hollings Manufacturing Extension Partnership (MEP), and the Baldrige Performance Excellence Program, help U.S. industry develop and implement new technology, develop robust supply chains, and refine their systems for efficiency and effectiveness, all while making them more competitive in the global economy.
Manufacturing USA is a network of 14 manufacturing innovation institutes where companies, universities, community colleges and entrepreneurs can come together to develop new manufacturing technologies with broad applications. They also train the workforce, including returning veterans, needed to work in advanced manufacturing industries. The primary goal is to ensure that American innovations and inventions currently going offshore for production in competitor nations are scaled up from lab experiments to products and processes that can be used by U.S. manufacturers. Secretary Wilbur Ross in his introduction to the Manufacturing USA 2016 Annual Report stated: "Our commitment to a strong U.S. manufacturing sector is unwavering. Our vision is nothing less than U.S. global leadership in advanced manufacturing."
The MEP Program is a federal-state-industry partnership providing U.S. manufacturers with access to technologies, resources and industry experts. The program consists of centers located across the country working directly with their local manufacturing communities to strengthen the competitiveness of our nation's domestic manufacturing base. NIST MEP also provides technical assistance in adopting advanced manufacturing technologies, addressing emerging manufacturing needs, and understanding foreign manufacturing and compliance issues. They provide guidance on cybersecurity of supply chains and transferring technology from NIST labs and other federal research organizations. Established in 1988 and reauthorized in 1998, 2007, 2011 and 2017, the MEP Program's network of centers promote business growth and connect manufacturers to public and private resources essential for increased competitiveness and profitability.
The Baldrige Performance Excellence Program oversees the nation's only Presidential award for performance excellence while offering criteria, assessments, tools, training and a community for those dedicated to helping organizations improve. In addition to traditional awards in manufacturing, health care, education and nonprofit sectors, the program has introduced the Baldrige Cybersecurity Excellence Builder to promote adoption of best practices in cybersecurity. The Baldrige program currently receives no federal funding.
"Support for a vibrant domestic manufacturing sector, a solid defense industrial base, and resilient supply chains is a national priority."
– U.S. National Security Strategy