The recent Quest for Excellence® conference put a spotlight on leadership and some of the Baldrige community leaders who are inspiring others across the nation.
Role-Model Leadership
Nick Macchione, agency director for the County of San Diego Health and Human Services Agency (HHSA), received the sixth annual Harry S. Hertz Leadership Award, which recognizes an individual whose role-model leadership behaviors have inspired, encouraged, challenged, and empowered others to achieve performance excellence. 
Macchione, who leads HHSA, a massive organization with about 10,000 employees/contractors and an annual budget of nearly $2 billion, has led the organization to develop a world-class, integrated, service delivery system for health, housing, and human services for 3.3 million San Diego residents. He launched the Live Well San Diego initiative to unite and leverage the resources of community partners, local industry, and other municipalities. The initiative has seen a 600% growth in partner organizations over the last five years.
"Great things are happening in San Diego. Baldrige is happening in San Diego," said Macchione at the recent Quest conference. "As a young executive, I was introduced to a framework that is truly transformative, a framework that was not just for our organization, a framework that was improving lives—what I have dedicated my entire professional life to."
Macchione said that when he became HHSA agency director, he had the singular goal to improve lives and help families, as his family was helped when it first arrived in this country.
I believe in "giving back to the strength of our nation," he said. "And the Baldrige framework was going to get us there in San Diego. . . . I am honored that our organization uses the framework to reach the benefits from the health care and government, nonprofit, and communities of excellence frameworks. . . . We now have to put in action our framework for improving lives not just in San Diego but across every community in this nation. . . . Our purpose and passion are driving operational excellence using the Baldrige [framework] to improve lives. It is what inspires me every day to do more."
View full remarks by Nick Macchione. 
Lifetime Achievement
Larry Potterfield, founder and CEO of MidwayUSA, a 2009 and 2015 Baldrige Award recipient, received the 2018 E. David Spong Lifetime Achievement Award. Potterfield accepted his honor while proudly displaying his Baldrige-fabric-lined jacket that he said the organization commissioned on hearing from the U.S. Secretary of Commerce that MidwayUSA had won the Baldrige Award. He said the jacket's patch was updated when MidwayUSA won the award a second time.
He began his acceptance with patriotism; "If indeed MidwayUSA is the purest Baldrige colony on the planet, I challenge each of you in the Baldrige community to also be pure Baldrige colonies because America and the Baldrige community needs more than one."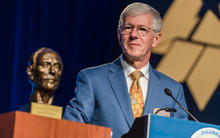 Credit: 
Hamilton Photography
"I like to tell people that I have two degrees in business administration . . . but I never learned how to run a business in business school. . . . The leadership and management principles of the Baldrige Criteria have transformed MidwayUSA into a leading organization in the industry and in America."
He shared some secrets to MidwayUSA's success.
The vision of 23 "clear, concise, bold words" that include the customer. The vision is "to be the best-run business in America and the most successful, most respected business in our industry for the benefit of our customers."
Potterfield said, "We go back to [the vision] every single day, and we go back to the organization and ask ourselves, 'Is this what the best-run business in America would do?' We may change some decisions that we might have made."
Identifying values during the Baldrige process caused the most struggle for MidwayUSA, Potterfield said, questioning whether the values belong to the organization or to the people who work there.
"Thought-leading organizations take the most important of the human values and adopt them as their own," he said. "Then they build or grow or develop their employee pool with people who share those values like us."
Such thinking culminated in MidwayUSA having nine "non-negotiable family values": honesty, integrity, humility, respect for others, teamwork, positive attitude, accountability, stewardship, and loyalty.
 "To get into Midway, we have to believe that you share those values. If we later find that we made a mistake and you did a good job convincing us, then you can't stay. . . . And I tell people in the orientations . . . that everyone here shares your values. That has been a huge and powerful thing for Midway."
Potterfield said the organization wasn't satisfied to have those nine values plastered all over the mission statement and on campus. MidwayUSA created Operation Concrete Values in 2015, and employees jack-hammered those values in concrete across the campus. "I think there would be no better example of employee engagement than carving your values into the sidewalk," he said.
View full remarks by Larry Potterfield. 
Honoring Leaders
As part of the Baldrige Foundation recognition event, Foundation Chairman of the Board George Benson also recognized leaders across the sectors of the U.S. economy. "The purpose [is to honor people who] actively support the Baldrige Foundation and its mission," he said.
Benson recognized
Deborah Bowen, president and CEO of the American College of Healthcare Executives, in the health care sector
Russel Branzell, president and CEO of the College of Healthcare Information Management Executives, in the cybersecurity sector
Lee Butler, director of performance excellence at Don Chalmers Ford, in the business sector
Dr. John Dreyzehner, commissioner of health for the state of Tennessee, in the government sector
Bennie Fowler, former group vice president, Global Quality and New Model Launch at Ford Motor Company, in the business sector
Julia Gabaldon, founding president and CEO (retired) of Quality New Mexico, in the nonprofit sector
Katie Rawls, president and CEO of the Tennessee Center for Performance Excellence, in the nonprofit sector
Brent Ruben, distinguished professor of communication, School of Communication and Information, Rutgers-New Brunswick, and university executive director of the Center for Organizational Development and Leadership, in the education sector
In addition, Benson honored the Synergy Organization, the founding sponsor of the Harry S. Hertz Leadership Award, noting that its CEO Ken Cohen had the idea for that leadership recognition.
The Baldrige Foundation, a nonprofit created to support the Baldrige Program, is now accepting nominations for the 2019 recognition event; the Foundation has in recent years begun to recognize individuals involved in performance excellence.