Submissions for the 2022 Benchmark Challenge Problems are closed.
Solution keys for these Challenge Problems and the corresponding measurement data are being released and links may be found here.
The 2022 benchmark measurements, challenge problem planning, and conference preparations by 11 NIST divisions and 19 partner organizations are progressing on schedule following the many delays caused by the COVID-19 pandemic. In addition to the previously scheduled 2022 benchmarks, we have added our first asynchronous benchmark that is not tied to the regular benchmark schedule.  Such asynchronous benchmarks provide increased flexibility in supporting the needs of the modeling community.
The 2022 schedule for the various AM Bench activities is provided below.
Asynchronous benchmark:
January 21:      Asynchronous benchmark challenge problem release (with 

calibration data

)        

February 4:       Online Q&A webinar for anyone interested in the asynchronous benchmark

April 22:            Deadline for asynchronous benchmark challenge problem submissions

April 25:            All asynchronous benchmark measurement data released
 Regular benchmarks:
April 22:            AM-Bench 2022 challenge problem release (with calibration data) - 5 sets of metals benchmarks & 2 sets of polymers benchmarks

May 5:              Online Q&A webinars for anyone interested in the 5 metals benchmarks

May 6:              Online Q&A webinars for anyone interested in the 2 polymers benchmarks

July 15:            Deadline for all AM-bench 2022 challenge problem submissions

July 18:             All AM-Bench 2022 measurement data released
August 15-18:   AM-Bench 2022 Conference

Hyatt Regency, Bethesda, MD, USA

Includes a Special Plenary Session on Qualification and Certification of AM Components – Organized by the Federal Aviation Administration and the National Aeronautics and Space Administration

Abstract submission is closed, but registration is open. Further details can be found on the 

TMS conference website

. Even if you are not involved in the measurements or modelling challenges, we strongly encourage all involved in AM modelling, simulation, and supporting measurements to join us!
Description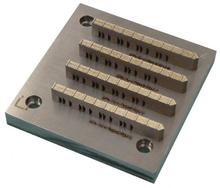 AM-Bench provides a continuing series of controlled benchmark measurements, in conjunction with a conference series, with the primary goal of enabling modelers to test their simulations against rigorous, highly controlled additive manufacturing benchmark test data.  All AM-Bench data are permanently archived for public use.  The first round of benchmark measurements and the first conference, AM-Bench 2018, were completed in 2018 and the next round of measurements and the next conference, AM-Bench 2022, will be completed in 2022, following a one-year delay caused by the COVID-19 pandemic.
Scope
AM-Bench was established to develop benchmark measurements for all AM processes and materials.  However, the requirement for highly controlled and quantitative measurements severely limits the number of benchmark measurements that can be conducted in any given test cycle.  Thus, one of the key challenges faced by AM-Bench is to select benchmark measurements that are both feasible and have the highest impact on the AM community. We thank the AM-Bench Scientific Committee for the valuable advice they provided in selecting the final materials and processes that were used for AM-Bench 2018 and that are currently being used for AM-Bench 2022.

The 2018 benchmarks included both metals and polymers.  For metals, the focus was on laser powder bed fusion (LPBF) of both a nickel-based superalloy, 625, and a martensitic, precipitation-hardenable stainless steel, 15-5.  Both 3-D builds and single laser tracks on bare metal plates were conducted.  For polymers, the focus was on thermoplastic AM technologies and we identified the two most widely used approaches for AM-Bench; materials extrusion (MatEx) and LPBF, also sometimes referred to as selective laser sintering (SLS).  The MatEx benchmark focused on polycarbonate and the LPBF focused on polyamide 12 (nylon 12).  Full details of the 2018 benchmark measurement plans and results may be found below.
In addition to the current three-year cycle of in-depth benchmark measurements, smaller asynchronous benchmarks may be supported in the future to expand the availability of useful benchmark data.  Anyone who is interested in proposing such measurements is encouraged to contact the AM-Bench organizers.
Conference
With a planned three-year cycle time, AM-Bench will hold a conference associated with the benchmark tests.  This conference will provide a venue where modelers and experimentalists can come together to discuss what works, what doesn't work, and how we can fix what doesn't work.  The first AM-Bench conference was hosted by NIST at their Gaithersburg, MD campus during the week of June 18, 2018.  The TMS handled the conference logistics and the conference proceedings have been published in the TMS archival publication, Integrating Materials and Manufacturing Innovation. Links to the relevant AM-Bench 2018 publications may be found under "Referencing AM-Bench Data" at the top left of this page.  The next conference is scheduled for August 15-18, 2022 in the Maryland suburbs of Washington, D.C., USA.