Additive Manufacturing Benchmark Test Series (AM-Bench)
A continuing series of highly controlled benchmark tests for additive manufacturing, with modeling challenge problems. Results will be discussed at a corresponding conference series.

Intent
AM-Bench is developing a continuing series of controlled benchmark tests, in conjunction with a conference series, with two initial goals, 1) to allow modelers to test their simulations against rigorous, highly controlled additive manufacturing benchmark test data, and 2) to encourage additive manufacturing practitioners to develop novel mitigation strategies for challenging build scenarios.
Scope
A major issue that AM-Bench faces with developing benchmark tests is the broad scope of the available AM methods and materials.  Initially, our benchmark tests will be limited by the methods and materials we can specify accurately enough to make benchmark tests meaningful.  The 2018 benchmarks will include both metals and polymers.
For metals, several class 1 benchmark tests are planned.  These include: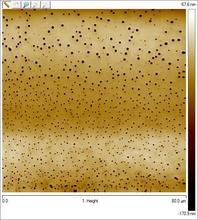 A simple build geometry using laser powder bed AM and two different material systems.  The feedstock material will be extensively characterized and the build will be highly controlled, with extensive in situ process monitoring. Residual stresses, part distortion, and microstructure will all be measured. 
Individual laser traces on bare metal alloy plates, for multiple power and speed settings. The melt pool length and cooling rates will be measured in situ and transverse cross sections will be made to obtain the cross-sectional geometry. The microstructure, including the dendritic/cellular structure, will be characterized. Finally, the 3D top surface topography of all melt traces will be measured.
Class 2 benchmark tests will not be included in this first round of benchmark tests:
For polymers, at least two class 1 benchmark tests are planned.  These include:
Simple build geometries using materials extrusion and selective laser sintering technologies under highly controlled conditions with well characterized starting materials and with on-line sensors, to the extent currently possible.
Conference
With a planned two-year cycle time, AM-Bench will hold a conference associated with the benchmark tests.  This conference will provide a venue where modelers and experimentalists can come together to discuss what works, what doesn't work, and how we can fix what doesn't work.  The first AM-Bench conference will be hosted by NIST at their Gaithersburg, MD campus, and will be held during the week of June 18, 2018.  The TMS will handle the conference logistics and the conference proceedings will be published in the TMS archival publication, Integrating Materials and Manufacturing Innovation. A link to the AM-Bench 2018 conference web page may be found above.
2018 Benchmark Test Descriptions