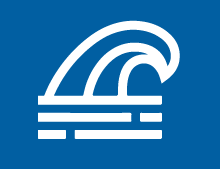 Although Tsunamis are not likely to directly impact a NIST campus, Tsunami response can be valuable information.
A Tsunami is a series of ocean waves caused by earthquakes, landslides, or volcanic eruptions. These waves can kill people and destroy entire communities. Tsunamis strike as fast-moving walls of water that flood, drain and re-flood the land for hours. 
A natural sign of a Tsunami may be your first, best, or only warning that a Tsunami is on its way. Natural signs include an earthquake, a loud roar from the ocean, or unusual oceanic behavior. Such behavior can include a sudden rise/wall of water, or a sudden retreat of the water making the ocean floor visible. If you experience any of these signs, a Tsunami could be approaching.
Take the following actions:
MOVE TO HIGHER GROUD IMMEDIATELY (away from the water).

If you are near the coast and experience shaking from an earthquake DROP, COVER, HOLD ON to protect yourself. As soon as the shaking stops MOVE TO HIGH GROUND OR INLAND (away from the water).

Once you have evacuated, stay there until officials say it is safe to return to your home/hotel or direct you to evacuate further inland.
Additional Resources