Mission Statement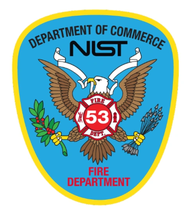 It is the mission of the NIST Fire Department to provide an effective fire prevention and protection program to reduce the loss of life and property through the continuation and implementation of policies and education. The department provides a high quality of standard emergency medical care, rapidly responds to any request for assistance by our NIST staff or our neighboring fire departments in Montgomery County, and provides the best services needed to mitigate an incident and bring it to a favorable outcome.
Description
The NIST Fire Department provides 24-hour support and protection for the NIST headquarters facility located in Gaithersburg, Maryland on 578 acres. The Fire Department provides fire prevention inspections, fire suppression, emergency medical services, hazardous materials (HAZMAT) response, and miscellaneous services for the Gaithersburg campus. 
All firefighters are certified Emergency Medical Technicians, Hazardous Materials Technicians, and Fire Inspectors. 
Responsibilities

  
Performs building 

fire and safety inspections 

including fire extinguisher inspections and maintenance.

Ensures NIST compliance with applicable fire codes.

Provides atmospheric testing for confined space in the absence of a NIST Safety Office Representative.

Reduces or eliminates temporary storage in hallways, etc., which could be potentially hazardous in the event of an emergency.

Inspects and tests fire hydrants and fire protection water supply systems.

Provides consultation with NIST managers, employees, and associates in matters regarding fire safety.

P

rovides portable handheld fire extinguisher training and conducts evacuation drills.

Maintains a hazardous materials database that is used during emergencies.

Issues hot work permits.

Maintains, inspects, and updates all campus Automated External Defibrillators (AED).

Provides life safety training (

CPR/AED and First Aid) to the NIST staff as well as associates and guests.

Oversees the Evacuation Assistance Program.

Answers the emergency line and dispatches appropriate units. 

Maintains a state of readiness through updated training.

Assists the NIST facility in an emergency.

Responds to all emergency calls regarding fire, first aid, chemical spills, odors, and service calls such as water leaks. 
Fire Prevention Tips
Did you know that if a fire starts in your home, you may have as little as two minutes to escape? During a fire, early warning from a working smoke alarm plus a fire escape plan can save lives. Learn what else to do to keep your loved ones safe!
Install smoke alarms on every level of your home, inside bedrooms, and outside sleeping areas. 

Smoke alarms can alert you to a fire in your home in time for you to escape, even if you are sleeping.

Test smoke alarms every month. If they're not working, change the batteries.

Talk with all family members about a plan to escape from a fire and practice the plan twice a year.

Provide 

adequate

 spacing for heaters.

If a fire occurs in your home, GET OUT, STAY OUT, and CALL FOR HELP. Never go back inside for anything or anyone.
NIST Emergency Equipment & Apparatuses
The primary purpose of a fire engine includes transporting firefighters and water to an incident as well as carrying equipment for firefighting operations. Some fire engines have specialized functions, such as wildfire suppression, aircraft rescue, and firefighting, and may also carry equipment for technical rescue. NIST Fire Department maintains a fleet of varying types of apparatus to support the mission of protecting lives, property, and the environment. A general review of the apparatus specifications can be found at this link: CLICK HERE   
Additional Resources
If you're a Montgomery County resident and have any questions or concerns please visit  Montgomery County, Maryland Fire & Rescue Service or call 240-777-0311.