June 2016
First Interdisciplinary Standards for Public Comment | FSSB Appoints New Chair of Geological Materials Subcommittee | Status of Standards/Guidelines Recommended for Inclusion on OSAC Registries | Research & Development Needs | OSAC Membership: What is the Timeline to Fill Current Vacancies Related to Expiring Two-Year Terms? | On The Horizon | Resource Committee Corner: Quality Infrastructure Committee Continues to Develop Processes and Procedures to Aid OSAC's Mission | SDO News: American Academy of Forensic Sciences Standards Board (ASB) Updates
First Interdisciplinary Standards for Public Comment
Two standards were submitted by one OSAC Virtual Interdisciplinary Subcommittee (consisting of representatives from all OSAC subcommittees) for consideration to the OSAC Registry of Approved Standards. 
ISO/IEC 17025:2005 General Requirements for the Competence of Testing and Calibration Laboratories (for consideration as an OSAC Standard)
ISO/IEC 17025:2005 specifies the general requirements for the competence to carry out tests and/or calibrations, including sampling. It covers testing and calibration performed using standard methods, non-standard methods, and laboratory-developed methods.
It is applicable to all organizations performing tests and/or calibrations. These include, for example, first-, second- and third-party laboratories, and laboratories where testing and/or calibration forms part of inspection and product certification.
ISO/IEC 17020:2012 Requirements for the Operation of Various Types of Bodies Performing Inspection. (for consideration as an OSAC Standard)
ISO/IEC 17020:2012 specifies requirements for the competence of bodies performing inspection and for the impartiality and consistency of their inspection activities. 
It applies to inspection bodies of type A, B or C, as defined in ISO/IEC 17020:2012, and it applies to any stage of inspection.
While these standards are already widely implemented and used in the domestic and international forensic science community, the majority of the virtual subcommittee voted to move these forward for consideration, believing that adding these to the registry would broaden the impact of these standards by:
o  Promoting and facilitating technical competence and valid test and inspection results 
o  Encouraging all forensic science service providers to implement the standards, (including smaller laboratories and crime scene units)
o  Offering the incentive for smaller laboratories and crime scene units to seek the funding and personnel they need to implement them.
The public comment period is open on the OSAC Kavi Public Workspace under "Documents".
The intent of the public comment period is to collect public opinion on inclusion of the standards to the OSAC registry (OSAC is not soliciting potential revisions to the documents themselves.)
---
FSSB Appoints New Chair of Geological Materials Subcommittee
Andrew Bowen was appointed to the Geological Materials Subcommittee as Chair on May 18, 2016. Mr. Bowen is currently a senior forensic chemist for the U.S. Postal Inspection Service, where he examines trace evidence and unknown chemical substances.
Prior to this position Mr. Bowen spent seven years as a forensic scientist for Stoney Forensic, Inc., a private forensic science consulting company, where his duties primarily involved conducting soil examinations. He started his career as a microscopist and instructor for the McCrone Research Institute, a not-for-profit teaching organization, where he was employed for three years. He is a member and Past President of the American Society of Trace Evidence Examiners, a Member of the American Association of Forensic Sciences, and is a Fellow of the American Board of Criminalistics in the area of Comprehensive Criminalistics. His education includes a B.S. in Chemistry from the University of Virginia and a M.S. in Forensic Science from the University of Illinois at Chicago.
---
Status of Standards/Guidelines Recommended for Inclusion on OSAC Registries
In addition to the two interdisciplinary standards mentioned earlier in this newsletter, there are two additional standards being put forward for public comment by the Fire & Explosion Investigation Subcommittee in the Crime Scene/Death Investigation Scientific Area Committee. They are NFPA 921 and NFPA 1033.
NFPA 921: Guide for Fire and Explosion Investigations, 2014 Edition sets the bar for scientific-based investigation and analysis of fire and explosion incidents. Referenced in the field, in training, and in court, it is the foremost guide for rendering accurate opinions as to incident origin, cause, responsibility, and prevention. It is intended for use by both public sector employees who are responsible for fire investigation and private sector professionals who conduct investigations for insurance companies or litigation purposes.
NFPA 921, 1.1 Scope. This document is designed to assist individuals who are charged with the responsibility of investigating and analyzing fire and explosion incidents and rendering opinions as to the origin, cause, responsibility, or prevention of such incidents, and the damage and injuries which arise from such incidents.
NFPA 921 addresses all aspects of fire and explosion investigation are covered from basic methodology to collecting evidence to failure analysis. Guidelines apply to all types of incidents from residential fires and motor vehicle fires to management of complex investigations such as high-rise fires and industrial plant explosions.
NFPA 1033: Standard for Professional Qualifications for Fire Investigator, 2014 Edition facilitates safe, accurate investigations by specifying the job performance requirements (JPRs) necessary to perform as a fire investigator in both the private and public sectors.
NFPA 1033, 1.1 Scope. This standard shall identify the professional level of job performance requirements for fire investigators.
NFPA 1033 defines the duties, tasks, knowledge, skills, and performance evaluation criteria for the full range of investigation issues that may be encountered on the job. Public comment can be made on both NFP 921 and NFPA 1033.
Check out the full list of standards and guidelines moving through the OSAC Registry Approval Process. 
---
Research & Development Needs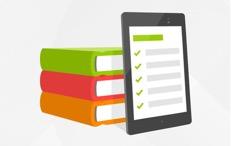 The Crime Scene/Death Investigation Scientific Area Committee has two Research and Development Needs to contribute. They are both under the Fire and Explosion Subcommittee:
Potential for Reducing Bias in Fire and Explosion Investigations
Validation of Origin and Cause Determination Protocols
Research & Development Needs can be found in greater detail on the NIST OSAC Research and Development Needs page.
---
OSAC Membership: What is the Timeline to Fill Current Vacancies Related to Expiring Two-Year Terms?
OSAC vacancies were announced in the May 2016 newsletter, related to the large number of memberships with 2-year terms that expire this October. In some cases, those memberships will be renewed, in other cases new members will be appointed. The figure below depicts the phased timeline to appoint or reappoint members.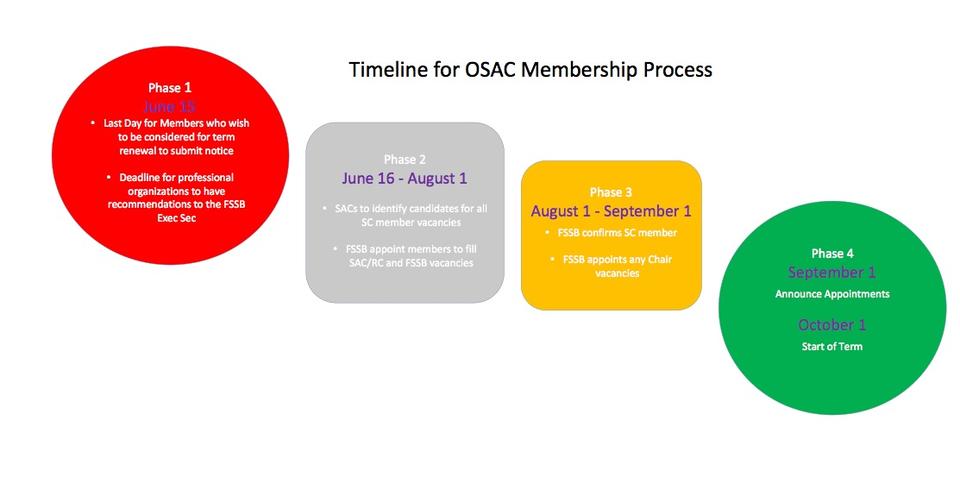 ---
On the Horizon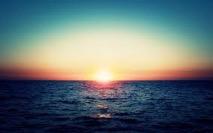 (OSAC Meetings for OSAC Members and Invited Guests) The next full OSAC meetings are scheduled for summer 2016 in Phoenix, AZ. Instead of meeting as one large group, the OSAC will meet separately in a series of smaller meetings.
o (OSAC Meeting Breakout #1) Legal Resource Committee, Quality Infrastructure Committee, and Human Factors Committee, Jul 12-13, 2016
o (OSAC Meeting Breakout #2) Digital/Multimedia SAC + 4 Subcommittees, Physics/Pattern SAC + 5 Subcommittees, Jul 26-29, 2016
o (OSAC Meeting Breakout #3) Chemistry SAC + 6 Subcommittees, Aug 2-5, 2016
o (OSAC Meeting Breakout #4) Biology/DNA SAC + 3 Subcommittees, and Crime Scene SAC + 7 Subcommittees, Aug 23-26, 2016
o (OSAC Meeting for OSAC Members and Invited Guests) The following full OSAC meeting is scheduled for April 3-7, 2017, tentatively in Leesburg, VA.
o OSAC public meeting date and times will be announced shortly.
Upcoming Events at NIST of Potential Interest to OSAC Stakeholders:
•  NIST has asked the National Academies of Sciences, Engineering, and Medicine to hold a workshop on developing personnel selection tools for forensic scientists, particularly those working with pattern evidence. The workshop will bring together [Industrial-Organizational] psychologists who are experts on personnel selection and testing, forensic scientists, legal experts, as well as other researchers whose work has a nexus with needs in the forensic science field. This 2-day workshop will be held July 14-15, 2016 in Washington, D.C., open to the public, and will be webcast and the recording will be made available on the Academies website for access after the conclusion of the workshop. A summary of the presentations and discussions at the workshop will be published this fall. Visit the workshop webpage. If you would like more information or would like to receive a registration reminder, please contact Julie Schuck at jschuck [at] nas.edu (jschuck[at]nas[dot]edu).
•  REGISTRATION NOW OPEN! Trace Evidence Data Workshop: Improving Technology and Measurement in Forensic Science, July 19-20, 2016. This event is a part of an effort at NIST to gather feedback from the practitioners and researchers in the forensic science community on further improving access and expanding the development of datasets useful, specifically, for trace forensic evidence. To register, visit the Trace Evidence Data Workshop page.
---
Resource Committee Corner: Quality Infrastructure Committee Continues to Develop Processes and Procedures to aid OSAC's Mission
The last official update from the Quality Infrastructure Committee in this newsletter was September 2015. A lot has been accomplished since this time.
The Quality Infrastructure Committee (QIC) consists of these listed professionals, including five (5) representatives of the American Society of Crime Laboratory Directors (ASCLD). The QIC serves as resource to OSAC members and affiliates on all quality-related issues. The QIC also helps support OSAC operations for the SACs and subcommittees by developing and maintaining all associated processes, procedures and worksheets.
The OSAC launched the Registry Approval process and its associated worksheets and templates in 2015. To supplement the Registry Approval Process, the QIC also developed (with input from the FSSB) a Comment Adjudication Procedure and template, and an Appeals procedure. 
You can find the details of these documents on the OSAC website on the Registry Approval Process Templates page.
The QIC, through Task Groups, also developed and finalized a 2nd OSAC process, Working with an SDO (Standards Development Organization.) This process provides steps for OSAC unit to obtain approval on a draft document or concept for a specific documentary standard that will be developed within a specific SDO. 
Most recently, the a QIC Task Group developed and finalized a Registry Management Procedure which addresses how items on the Registry are removed and/or updated. 
In addition to working on processes and procedures, the QIC has:
•  Provided input on quality and standards related comments/concerns on over 20 draft SDO documents and Registry Approval documents circulated by the OSAC Units.
•  Developed an Impact Assessment Survey to capture community concerns about the impact a document will have on a laboratory if placed on an OSAC Registry. The survey will be administered through the help of ASCLD.
•  Developed a "quality" terminology document in order to establish consistency within the resource committees where possible.
•  Performed a series of virtual and in-person training sessions to introduce the processes, answer questions, and assist subcommittees to begin to route projects through the processes.
•  Held a series of consecutive Webinars to introduce the OSAC to various SDOs that are interested in accepting new work products from the OSAC
•  Performed a comment adjudication process check for 8 standards packets that have routed through the registry approval process.
•  Held joint meeting with the other two OSAC Resources Committees, Legal Resource and Human Factors.
•  Recommended ISO/IEC 17025 and ISO/IEC 1720 for Registry Approval and completed associated worksheets and forms for submission.
•  Reviewed and documented opinion for 5 submissions of standards development process used to create documents to determine if they meet OSAC's criteria of a "reasonable standards development process." 
The QIC will be assisting the OSAC in the consolidation and coordination of terminology documents developed by each unit. Terms will be reviewed for overlap, inconsistencies, duplication. The goal is to have this project completed by September 2016.
---
SDO News: American Academy of Forensic Sciences Standards Board (ASB) Updates
The American Academy of Forensic Sciences Standards Board (ASB) has notified candidates of their selection for four Consensus Bodies: Disaster Victim Identification, DNA, Friction Ridge and Wildlife Forensics. 
Approximately every two weeks, the ASB will announce selections for more Consensus Bodies. The next batch will include: Anthropology, Bloodstain Pattern Analysis, Firearms and Toolmarks, Footwear and Tire Tracks, and Forensic Document Examination.  
Following that batch, the ASB will announce Medico-legal Death Investigation, Patterned Injury, and Toxicology.  
The last batch will be Dogs & Sensors. 
The ASB has applicants for the Odontology Consensus Body and will form it if any New Work Proposals are received from the Odontology Subcommittee – excepting Bitemarks, which is included in the Patterned Injury Consensus Body.
The ASB encourages the corresponding Subcommittees in the OSAC structure to nominate a liaison to relevant ASB Consensus Bodies. The liaison need not be a voting member of the Consensus Body. The liaison will provide information from the Subcommittee to the Consensus Body and vice-versa. There will be a formal place on the agenda of each Consensus Body meeting for liaisons to make their reports. Liaison status is also extended to professional organizations, such as the Society of Forensic Toxicologists, American Board of Forensic Odontology, International Association for Identification and others.  
The ASB has already received documents for submission to the standards process from some Consensus Bodies, and looks forward to receiving many more. The ASB wishes to reiterate that all of the Consensus Body meetings are open and encourages Subcommittee members to participate. The only restriction is the number of lines available on the web-conferencing system. All meetings after the first organizational one will be posted on the ASB website: asb.aafs.org and if a person wishes to participate in a meeting, please notify Brad Wing (BWing [at] aafs.org (BWing[at]aafs[dot]org)).
---
The OSAC newsletter is produced monthly by OSAC Affairs at NIST with input from the FSSB and other OSAC members. Any mention of commercial products is for information only; it does not imply recommendation or endorsement by NIST. Contact forensics [at] nist.gov (forensics[at]nist[dot]gov) with comments or general inquiries.
---