Printing with Concrete: How I Spent My Summer Vacation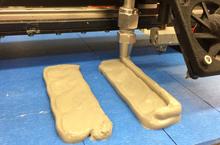 Since they came out a few years ago, the capabilities of commercially available 3-D printers have radically expanded. At first, they could only print little things out of plastic, but now people have begun to print working cars and even bridges. People are actively experimenting with how to print with more materials like metals, and, more recently, concrete.
[In the summer of 2017], I participated in the Summer Undergraduate Research Fellowship (SURF) program at NIST. Upon being accepted, I was assigned to a project titled "Additive Manufacturing of Cement." I was intrigued by the title alone, as I had experience with 3-D printing—but I had not, however, worked with cement or concrete. Read more about Austin Thomas' journey in his blog post.
Learn more about NIST research into 3D printing of concrete, a process that could save time, money and materials.
News and Updates
Publications
Projects & Programs
Software
Tools & Instruments