Breath sampling of cannabis users. Several versions of breath collection devices are being marketed for the detection of THC (delta-9-tetrahydrocannabinol) in the breath of cannabis users. THC is not directly correlated to intoxication but may indicate recent smoking or vaping. THC and other cannabinoids are non-volatile and chemically unstable, creating an as-yet unsolved reliability challenge that did not exist for the alcohol breathalyzer. In July 2019, NIJ awarded our team funding for a three-year project, to examine cannabinoids and other chemicals and biomarkers that have typically been ignored in the breath of cannabis users. We are developing new experimental methods to enhance the clinical, thermodynamic, pharmacokinetic, and materials knowledge of the scientific community.    
Air quality and occupational health. Personal exposure badges, used widely to assess individual exposure to chemical hazards in workplaces, contain adsorbent carbon traps. Our work in this area has shown that the results of personal exposure testing are highly adsorbent dependent. We investigate the effects of adsorbent choice on test results for this and other applications.
Selected publications:
Lamplugh, A. Harries, M., Nguyen, A., and Montoya, L.D., 2020. VOC emissions from nail salon products and their effective removal using affordable adsorbents and synthetic jets. Building and Environment 168, 106499, https://doi.org/10.1016/j.buildenv.2019.106499.
Lamplugh, A., Harries, M.E., Xiang, F., Trinh, J., Hecobian, A., and Montoya, L.D., 2019. Occupational exposure to volatile organic compounds and health risks in Colorado nail salons. Environmental Pollution 249, 518-526. https://doi.org/10.1016/j.envpol.2019.03.086.
Cargo screening at ports of entry. Our portable PLOT (porous layer open tubular) cryoadsorption vapor sampling device can be used in the field; for example, to collect the air inside a cargo container to be analyzed for compounds of forensic or law enforcement interest. We have detected explosives-related compounds, including gasoline, and protein decomposition markers relevant to cadaver detection as well as food safety issues.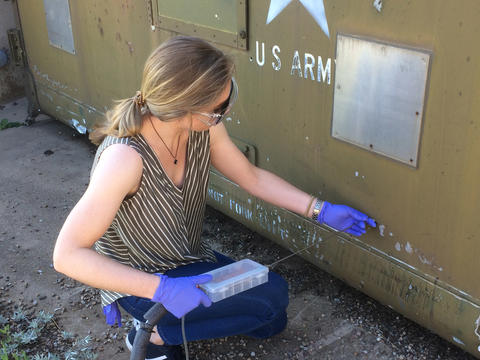 Development is underway on the next generation of portable PLOT sampling devices. The new design incorporates advanced data logging, battery powered operation, and an intuitive user interface. Building on our previous PLOT design, we are taking advantage of high-efficiency thermoelectric generators and lightweight diaphragm pumps to significantly reduce the instrument weight and improve performance and mobility.