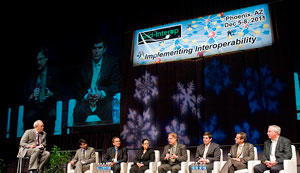 The National Institute of Standards and Technology (NIST) initiated the Smart Grid Interoperability Panel (SGIP) to support NIST in fulfilling its responsibility, under the Energy Independence and Security Act of 2007 (Title XIII, Section 1305), to coordinate standards development for the smart grid. The SGIP is a vehicle for NIST to solicit input and cooperation from private and public sector stakeholders in developing the smart grid standards framework.
In late 2009, the SGIP was established as a public/private partnership that defines requirements for essential communication protocols and other common specifications and coordinates development of these standards by collaborating organizations.
In April 2013, the SGIP fully transitioned to a non-profit private-public partnership organization, SGIP 2.0, Inc., supported by industry stakeholder funding and funding provided through a cooperative agreement with NIST. NIST continues an active role in the SGIP. Current news and member information now resides at SGIP.org.
The SGIP does not develop standards directly, but rather it provides an open process for stakeholders, including NIST, to interact and accelerate standards harmonization and advance the interoperability of smart grid devices and systems.
SGIP fulfills this mission by:
Facilitating standards development for smart grid interoperability
Identifying necessary testing and certification requirements
Overseeing the performance of these activities and continuing momentum
Informing and educating smart grid industry stakeholders on interoperability
Conducting outreach to establish global interoperability alignment
The SGIP produces and maintains one of the most useful sources of information about smart grid standards, the Catalog of Standards. The Catalog of Standards serves as a compendium of standards, practices, and guidelines considered relevant for the development and deployment of a robust and interoperable smart grid. 


More details about the establishment of the SGIP in 2009 and its 2009-2012 activities are provided in the NIST Framework and Roadmap for Smart Grid Interoperability Standards, Release 2.0 (see Chapter 5, "Smart Grid Interoperability Panel").  In 2017, the SGIP merged into the nonprofit organization Smart Electric Power Alliance (SEPA), which continues to facilitate the adoption of the Smart Grid Framework and accompanying Catalog of Standards. Including over 1,000 member organizations and supported by NIST engagement and research, SEPA continues to provide invested leadership in updating the national grid.