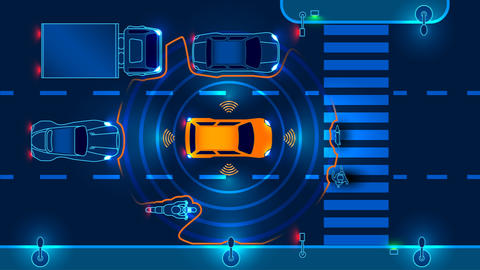 Measurement science and standards are needed to support the safe and predictable operation of future automated vehicles (AVs), which have great potential to significantly impact our daily lives and improve the competitiveness of our economy. A FY22 NIST Strategic and Emerging Research Initiatives (SERI) effort conducted stakeholder outreach that included a NIST AV workshop in March 2022. This effort was to identify the challenges that stakeholders face, understand how NIST can help solve these challenges, accelerate innovation, and help in deployment of AV technologies. These prioritized needs included advancing AV measurement science and standards for evaluating system-level behaviors and interactions among key systems and capabilities such as sensing/perception, AI, cybersecurity, and AV communications.
To address individual system performance challenges, NIST will develop measurement science and advance standardization in the following four AV projects:
Testbed for Assessing Automotive Sensor Perception: NIST will develop a new sensor testbed (an indoor lab space which will mimic on-road driving scenarios) for characterization of automotive sensors. In addition to system-level testing, the edge processing of perception sensors will be characterized by evaluating the capability of sensors to identify representative targets (static and dynamic) in typical real-world driving scenarios. Additional project details can be found in Perception Performance of Robotic Systems.
Minimizing Risk in Artificial Intelligence (AI) for AVs: NIST will develop a simulation testbed for testing and minimizing risk in the performance (i.e., output) of AV AI algorithms. The testbed will have interfaces to allow stakeholders to assess AI stacks and system trustworthiness in various driving scenarios. Input data will be provided from the output of the perception and communication topic areas of this SERI effort. 
Cybersecurity for On-Road Automated Vehicles: NIST will develop a testbed for measuring adversarial machine learning and defensive mitigations in AVs, which are challenged by real-time constraints and uncontrolled environments. A NIST-organized Automotive Cybersecurity Community of Interest has been established to support stakeholder interactions and discussions related to cybersecurity and AI risk management. 
Evaluating Communication Technologies for Connected and Automated Vehicles: NIST will develop co-simulation capabilities and tools to evaluate testing methods that assess the performance of vehicle communications technologies. In addition, NIST will identify AV communications scenarios, requirements, metrics, and models for AVs. Additional project details can be found in Automated Vehicles and AV Communications.
To address overall system performance and systems integration challenges, NIST will develop a combined physical and virtual testing capability in the following project:
Systems Integration Testbed: NIST will develop laboratory infrastructure, performance methods, and metrics, and advance standards towards a reproducible testbed focused on system-level interaction testing for on-road automated vehicles around core behavioral competencies. This activity involves coordination and collaboration with all of the NIST AV projects.
NIST is also actively interacting with the broad AV stakeholder community, and is planning a NIST AV workshop for September 2023.