Single-wall carbon nanotubes (SWCNTs) are a tubular form of carbon consisting of a single shell of sp2 bonded carbon with a nanometer scale diameter that have many predicted properties superior to other available materials. However, every production technique for SWCNTs produces many different species of SWCNTs (called chiralities, and defined by the vector with which a graphene sheet would be rolled to form the tube structure), with different lengths of those SWCNTs agglomerated in varied nanoscale to mesocale structures containing impurities both carbonaceous and from the catalyst. This fundamental polydispersity of SWCNT materials from production has vastly complicated the application of SWCNT materials for industrial use. To underlie technology development, measurement techniques and standards are necessary (so that everyone is speaking the same language), and technology for the isolation of purified nanotubes by the structural parameters that define their properties. This effort pursues both of these directions.

The properties of any SWCNT species are strongly linked to both the structure of the SWCNT, which defines whether a SWCNT is metallic or semiconducting (and its band gap), and its length, which primarily affects transport properties and collective behavior. These properties however are often dramatically affected by the local environment surrounding the SWCNT, and its aggregation state. Thus to characterize the intrinsic properties of any specific SWCNT species or length distribution, an initially polydisperse nanotube sample must be first purified of non-SWCNT carbon and metallic catalyst, as well as separated by diameter or length (or both) to achieve robust results. Characterization by optical methods (absorption, fluorescence, Raman scattering), conductivity measurements, microscopy or other techniques then yields specific results.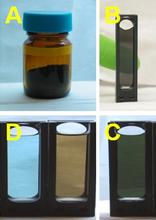 Figure 1. A photograph of SWCNTs at different stages of processing. A. Raw SWCNT soot. B. Dispersed and purified SWCNTs. C. Isolated, water-filled SWCNTs (1.3 nm average diameter). D. Metallic (blue), and semiconducting (yellow) SWCNTs separated from the green colored fraction shown in panel C.
We achieve separation and purification of SWCNTs thorough the use of dispersants such as small molecule surfactants or biomolecules such as DNA, that modify the surface of the nanotubes and enable them to be individually isolated in an aqueous environment. We can then use a variety of different methods to separate SWCNTs non-destructively, utilizing handles such as differential bouyancy or differential adsorption determined by the dispersant-SWCNT combination, or fundamental colloidal physics. Recently, we have pioneered the use of aqueous two-phase polymer extraction methods to enable a great leap in ease and scale of separation. The separated populations can then be used for fundamental studies.