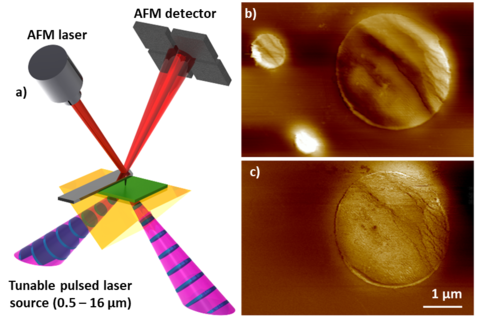 The aim of this project is twofold: 1) improve the PTIR measurement (spectral range, signal to noise ratio, throughput, time resolution, information content, range of environmental conditions) and 2) apply PTIR to characterize nanomaterials in important applications. Examples or recent PTIR applications from NIST include: plasmonic nanomaterials, organic inorganic perovskites (solar cells and detectors), hexagonal boron nitride nanostructures, 2D materials and their heterostructures, CdTe solar cells, metal organic frameworks, oil paints, nanomaterials for drug-delivery, and peptides nanostructures involved in neurodegenerative diseases. A recent PTIR review is available elsewhere.1
Advanced PTIR Measurement Schemes
By carefully matching the laser repetition rate to the AFM cantilever resonances it is possible to improve (≈ 50x) the PTIR signal to noise ratio. For example, with this method we measured ≈ 1000 cytarabine molecules inside a single liposome and determined the conformation of single peptide nanostructures relevant to understanding Alzheimer's disease in water.2 
In tapping-mode PTIR, we resonantly excite the AFM cantilever by non-linear mixing two cantilever modes (f1, f2) with the laser induced sample photothermal expansion (fL = f2-f1). For example, with this method we determined the nanoscale composition of rough paint samples.
Recent PTIR innovations at NIST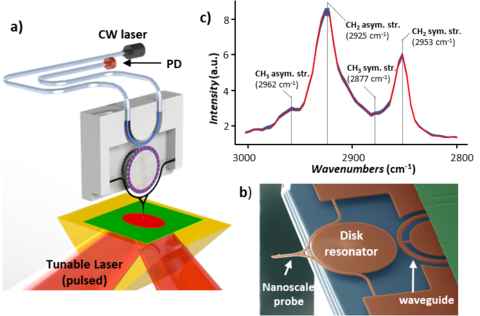 We recently extended PTIR to the visible, near-IR and far-IR ranges, covering the spectral range from 405 nm to 16,000 nm, continuously. These improvements, for example, enable measuring chemical composition, bandgap and defects with wavelength independent spatial resolution.
Using new nanoscale optomechanical transducer probes3 (Fig. 3) developed and fabricated at NIST , we improved the PTIR signal to noise ratio (50x), throughput (2500x) and time resolution (10 ns, 1500x). These novel AFM probes enable capturing the sample thermal expansion dynamic directly yielding chemical composition and the thermal conductivity at the nanoscale. For example, with these probes we measured the thermal conductivity of metal-organic framework single microcrystals,3 and monolayers with high signal to noise ratio.3 Currently we are integrating these optomechanical probes with high repetition rate tunable lasers to further increase the chemical and thermal imaging throughput 200-fold i.e. up to ≈ 500,000x better than conventional ringdown measurements.
We believe that our instrument will impact many nanotechnology applications in fields such as material science, energy, photonics, quantum physics, biology, and medicine.