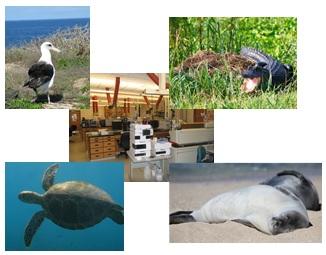 Environmental contaminants can cause adverse health impacts to wild animal populations, therefore monitoring contaminant exposure in wildlife is important.  Moreover, the diversity of chemicals released into the environment is daunting, which requires the development of methods to screen samples for the presence of new compounds (non-targeted research) and also methods to measure the accurate and precise concentration of known, targeted compounds in animal tissues.  The Environmental Chemical Sciences Group develops and optimizes these methods, certifies Standard Reference Materials produced from wildlife or surrogate species, and analyzes wildlife tissue samples for a broad suite of chemical pollutants, including trace elements or heavy metals, persistent organic pollutants, and emerging chemicals of concern.  Recent research has focused on chemical measurements in marine mammals, seabirds, sea turtles, and alligators.
ASSOCIATED PUBLICATIONS
Ackerman JT, Eagles-Smith CA, Herzoga MP, Hartman CA, Peterson SH, Evers DC, Jackson AK, Elliott JE, Vander Pol SS, Bryan CE. 2016. Avian mercury exposure and toxicological risk across western North America: A synthesis. Science of the Total Environment.
Jackson A, Evers DC, Eagles-Smith CA, Ackerman JT, Willacker JJ, Elliott JE, Lepak JM, Vander Pol SS, Bryan CE. 2016. Mercury risk to avian piscivores across western United States and Canada. Science of the Total Environment.
Wilson RM, Kucklick JR, Balmer BC, Wells RS, Chanton JP, Nowacek DP. 2012. Spatial distribution of bottlenose dolphins (Tursiops truncatus) inferred from stable isotopes and priority organic pollutants. Science of the Total Environment 425:223–230.