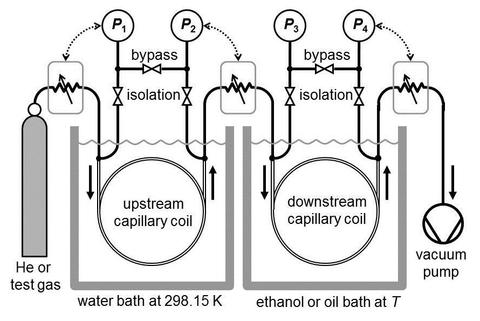 NIST has two on-line databases that include accurate gas viscosity values:
SEMIPROP - NIST Standard Reference Database 134 - for selected semiconductor process gases
NIST Chemistry WebBook - for heat transfer fluids, components of air, components of natural gas
[Note: as of February 2014, the NIST Chemistry WebBook provides data from Version 7 of "NIST Standard Reference Database 23 (REFPROP)"; The latest version of this database is for sale through NIST's Standard Reference Data program.]
The Fluid Metrology Group contributed highly accurate viscosity values to these databases using a novel, highly effective combination of theory, critical assessment of literature data, and direct measurements.
The Fluid Metrology Group applied gas viscosity data and a physical model of the laminar flow meter (LFM) to improve the extrapolation of LFM calibrations from one gas to another. Wright et al., 2012 calibrated three models of commercially-manufactured, laminar flow meters at four pressures (100 kPa, 200 kPa, 300 kPa, and 400 kPa) with five gases (N2, Ar, He, CO2, and SF6) over a 10:1 flow range using NIST's primary flow standards as references. We combined three items: (1) the calibration data acquired with N2, (2) gas-property data from NIST's database REFPROP 9.0, and (3) a physical model for each LFM that accounts for the effects of viscosity, entrance and exit effects, gas expansion, gas non-ideality, and slip. This combination predicted the calibrations for the flow of Ar, He, CO2, and SF6 with a maximum error of 0.8% for Reynolds numbers Re < 500. Under these conditions, the present LFM model allows prediction of calibration results for other gases with approximately 3 times lower uncertainty than conventional approaches that plot the flow coefficient as a function of the viscosity coefficient or Re.