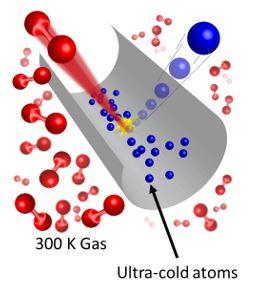 There is great interest in using ultra-cold atom technology for practical applications. Work already underway at NIST includes atomtronics, as well as atom devices for time and frequency. Other candidate applications include gravity gradiometers, extreme high-vacuum sensors, inertial and gyroscopic instruments, and navigational tools. Our flagship device is a Cold Atom Vacuum Standard, or CAVS. In our purpose-designed trap, a collision between a background molecule and a trapped atom will result in the atom being knocked out of the trap with near unit probability, as illustrated in Figure 1. We will exploit this to make an absolute sensor of number density—CAVS will count background molecules in the vacuum by measuring the lifetime of the cold atom trap.
Our team will simultaneously pursue two major objectives: There will be an effort geared toward characterizing existing atom-trapping technology to recast it into standards and sensors and, at the same time, an effort to push the technology into an ever smaller and more reliable package--making atom traps cheaper, easier to use, and more robust. Indeed, we envision these chip-scale cold-atom based sensors to be robust and reliable enough to use in a space-flight instrument. We will develop a multifunctional sensor platform that makes use of trapped ultra-cold atoms as deployable sensors.
We will utilize recent advances in nano-photonics to develop robust chip-scale atom traps. Candidate technologies include grating-based MOTs, as well as newer techniques that use on-chip optical couplers, shown in Figure 2, currently under development by the team. A major component of this effort is to incorporate photonics into a chip-based system. We'll integrate modulators, detectors, couplers, splitters, and waveguides all on a chip. In addition, we will need to make great advances in vacuum technology to obtain a device lifetime on the order of several years. We'll need to optimize materials, sealing techniques, and passive pumping techniques, while keeping in mind the effects of trap loading, as well as thermal and mechanical shock.