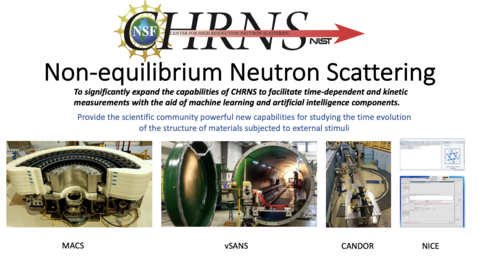 The MACS, vSANS, and CANDOR instruments will be upgraded to allow new approaches for time- resolved experiments.
New hardware will allow CHRNS users to remotely reduce and analyze their data.
New data formats that incorporate the multiple time-resolved data streams and a new methodology of maintaining the data in an accessible database will be implemented.
Software will be implemented for experimental optimization on CANDOR and vSANS.
A combination of computational power and software tools will be developed to treat the time-stamped data in almost real time for immediate user feedback and AI-based experimental control.
Time-stamping of the instrumental configuration and constant sample rotation will increase the effective data rates on MACS.
New electrochemical and stopped-flow capabilities will be developed
Unscheduled Outage Progress (2022-23)
Several parts of the initiative have been accelerated and new targets have been developed to use this time optimally.
FAIR data management (Completed)
Goal: FAIR: Findable, Accessible, Interoperable and Reusable
ORCID full integration in IMS, NICE control software

Sample metadata: entry in NICE, automatic population of database

Extracting and publishing metadata from pre-existing CHRNS-instrument files

Datafile metadata search page and API

Experiment metadata search page and API

Automatic DOI record generation from NICE experiments

Process metadata pipeline plan for new MACS NICE deployment

Data processing manifest exports from  reduction for all CHRNS instruments
https://ncnr.nist.gov/ncnrdata/metadata/search/datafiles/
https://ncnr.nist.gov/ncnrdata/metadata/search/experiments/
https://ncnr.nist.gov/ncnrdata/metadata/search/api_docs.html
New CHRNS Sample environments (various stages of completeness)
'Nearly complete' home-built stopped-flow experimental system (additional software to come)
Commercial stopped flow system delivery expected February 2023
New electrochemical cell for CANDOR (working on temperature enclosure)
MACS rotational stage delivery expected in April 2023
---
Unscheduled Outage Progress (2021-22)
With CHRNS efforts split over improving FAIR-data implementations here are the major milestones achieved during the outage
Resource loaded project management plans for FAIR-related activities
Rebalancing CHRNS Non-Equilibrium Structure of Materials Initiative to take advantage of the outage
Procurements on schedule:

Potentiostat received and passed acceptance testing
MACS rotational stage design and engineering
CANDOR liquid exchange system robotics components in procurement
All significant network hardware and computational resources (despite global supply chain issues)

Prototype sample-environment and instrument event-mode system

Server-client architecture
High-level Standards and Protocols defined
Version control of Labview libraries
Concepts for device discovery 
Concepts for including device and hardware information in data files for FAIR

1-2 shear cell control redesign to work with event-mode and current NICE controls

Improved furnace and temperature control on 
Event-mode is to be expanded on other rheometers

In-house stopped-flow system

Proof-of-principle flow system with 3 sec  effective resolution

Instrument control scripts and rudimentary automatic data reduction/visualization

Engagement with key users and experts; feedback has been important in deciding priorities and capabilities
proof of principle
Improved temperature controlled sample environment 

Autonomous Formulations Lab (nSOFT)

Inspiration for CANDOR liquid exchange system

Autonomous data collection for NR

Demonstrate viability of autonomous experimentation, where data are analyzed in the context of a predetermined model in real time

Full McStas simulation of MACS 

allows full characterization of timing delays from sample to detector (~1 ms) with detection uncertainties
allows full characterization of resolution function for data fitting and physics model assignment

Estimates of timing resolution and delays between sample and detectors for Candor and MACS

Visualization of MACS event mode data using DAVE

Mslice

CANDOR Biological reflectivity workflow

Transcribed C++ Library to Python 

(solid-supported lipid bilayer, membrane-associated protein, peptide, or small molecule)
Jupyter Notebook workflow for data fitting, v1.0
Improved functionality to Notebook (post-processing of fit, publication-ready graphs)
In progress to having web-based functionality; 

Bayesian optimization of experiments

from above workflow added 

support for experimental optimizations

Goal: complete with remote execution capabilities

Implementing experimental optimization methods for SANS

Synthetic data generation including measurement uncertainties for SANS underway

Coordination with SASView underway
Goal: complete with remote execution capabilities 

Remote fitting of SANS data in SASView

Multi-CPU and GPU support for remote fitting
Separation of computational code from GUI 
Staff Training Course Focused on writing new models and code structure