CO2 Reference Materials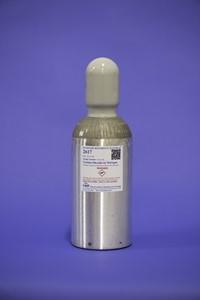 The Gas Sensing Metrology Group at NIST has a long history of providing reference materials to industry, monitoring communities, and academia.  The program began in the 1970's by developing an initial suite of CO2 primary standard mixtures (PSMs) to support the US Department of Energy and emissions gas measurements.  Through the 1980's and 1990's a second suite of CO2 PSMs was developed along with seven CO2/Air standard reference materials (SRMs), all individually certified, to meet customer needs for reference materials.  In the 2000's, a major expansion of CO2 PSM suites occurred using higher purity starting materials.  Advances in analytical instrumentation also led to the ability to begin to study adsorption/desorption issues in the internal surface walls of compressed gas cylinders.  In the 2010's a review of stability data showed that early CO2 PSMs (0.5% relative uncertainties) were considered stable, but new CO2 PSMs (0.05% relative uncertainties) showed an increase in mole fraction dependent on cylinder pressure and volume to surface ratio.  During this time, two new real air SRMs representing Northern Continental Air and Southern Oceanic Air were developed as a collaboration with National Oceanic and Atmospheric Administration (NOAA).  Today, NIST offers nine different CO2/N2 SRMs ranging in concentration from 500 µmol/mol to 16% and two CO2/Air SRMs at ambient concentrations.
CO2 Scale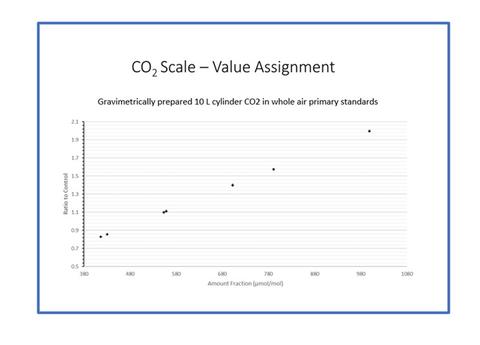 Atmospheric monitoring applications require a high degree of consistency among CO2 calibration standards. Currently, primary gas standards, produced using a gravimetric preparation method providing traceability to the SI, have standard uncertainties that are too high to be used to make measurements where small temporal and spatial changes are important.  An international task group, being led by NIST under the Metre Convention structure, has been convened to develop a system to more efficiently disseminate accurate and consistent greenhouse gas (GHG) standards due to an expected increased demand based on proliferating atmospheric GHG measurements globally.
The Gas Sensing Metrology Group is developing a new suite of CO2/Air PSMs ranging in concentration from nominal 374 µmol/mol to 999 µmol/mol which will be used to establish a NIST CO2 Scale.  The NIST CO2 Scale will consist of a suite of 8 working standards ranging in concentration from nominal 385 µmol/mol to 895 µmol/mol CO2.  Values for CH4, N2O, Ar, and O2 will also be assigned.  This scale will be internationally compared using the CIPM MRA process and a relationship will be established to a common scale, for example the WMO-Scale, for interpretation of combined datasets.   
A two-step dilution scheme is also being developed and tested to allow for a more efficient method of preparing and replacing depleted CO2 PSMs.  To evaluate equivalency of PSMs, comparison studies are routinely performed both at the domestic level and at the international level.
Isotope Ratios in CO2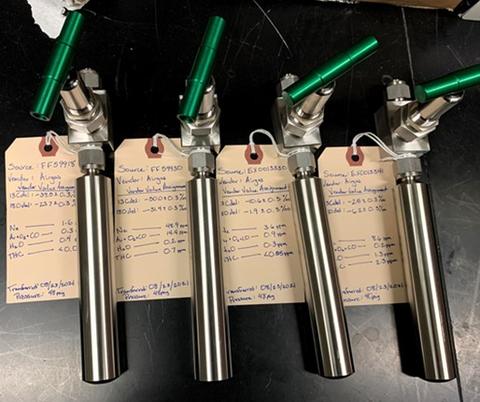 The emergence of high-precision optical analyzers coupled to traditional mass spectrometry measurements of isotope ratios has led to an increased demand in the atmospheric community for isotope reference materials of known composition and uncertainty.  Amongst the analytes of interest for reference materials and measurements, CO2 is of key importance to industry, central calibration laboratories (CCLs), national metrology institutes (NMIs) and the Bureau International des Poids et Mesures (BIPM). The acceptance criterion of these efforts can be traced to the World Metrological Organization/Global Atmospheric Watch (WMO/GAW) set compatibility metrics on the isotope-ratio-related values, δ13C and δ18O, across measurement techniques.
The Gas Sensing Metrology Group is developing two suites of CO2 PSMs, one in synthetic air and one in whole air utilizing pure CO2 that has been isotopically characterized to the Vienna Peedee Belemnite (VPDB) Scale for δ13C-VPDB-CO2 and δ18O-VPDB-CO2.  Utilizing cavity ring down spectroscopy (CRDS) and tunable infrared laser direct absorption spectroscopy (TILDAS) we will characterize these PSMs over a physically relevant range of isotope values.  These CO2 PSMs will then be used to transfer isotopic values to existing CO2/Air SRMs.
CO2 Ocean
Ocean carbon chemistry is changing as a result of human activities making seawater CO2 measurements critical to ocean carbon monitoring efforts.  As more countries increase ocean observation efforts and newer technologies such as ocean carbon dioxide removal are being developed, the demand for these reference materials will likely increase.  The Gas Sensing Metrology Group, in coordination with the Inorganic Chemical Metrology Group, is working towards developing capabilities to provide services for the analysis of total dissolved inorganic carbon using CO2/Air primary standard materials (PSMs) to provide SI traceability.