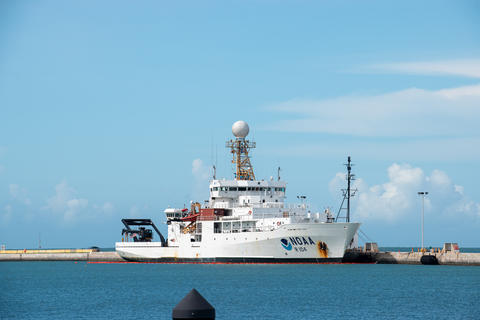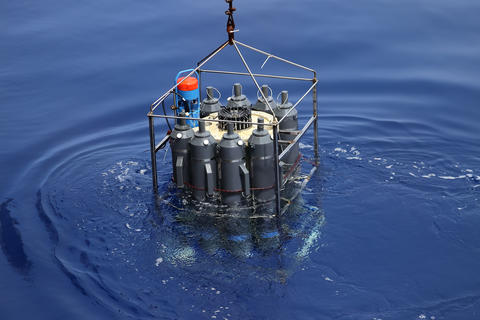 NIST is committed to sustaining the quality of ocean carbon measurements by developing capabilities to provide certified reference materials for the ocean carbonate system measurements and by conducting research to understand fundamental elements of the ocean carbon thermodynamic system.
FY22 NIST Ocean Carbon 

Focal Areas
NIST has three focal areas related to ocean carbon monitoring: to continue fundamental research to quantify the ocean carbon system and refine the thermodynamic relationships for modeling the carbon dioxide system in seawater; to develop capabilities to support a measurement services program for ocean carbon standard reference materials; and, to lead coordination on an international level to create a global ocean carbon dioxide reference material distribution network.  Currently there is only one lab in the world that produces nearly 10,000 units of ocean carbon seawater reference materials. These efforts support a larger goal of sustaining this reference material program and expanding the number of suppliers of ocean carbon reference materials.
FY22 NIST Ocean Carbon Progress
These goals are being fulfilled by strategic partnerships both nationally and internationally.
In collaboration with the Scientific Committee on Ocean Research Chemical Speciation Modelling in Seawater Working Group and the Ocean Carbon Intercomparison Forum, NIST is assisting with developing a thermodynamic chemical speciation model for the oceans, seas, and estuaries to facilitate glass electrode calibration in natural waters, trace metal speciation calculations, and ocean acidification studies. We are also addressing factors which could potentially cause discrepancies in global ocean carbon measurements and derived variables such as calcium carbonate saturation state through participation in the Ocean Carbon System Intercomparison Forum. In FY22 two publications were released under this objective.
One of the most urgent needs in this community is sustaining the supply of RMs for ocean carbon. Only one lab in the world provides reference materials to the global ocean carbon community. As a member of the United States Interagency Working Group on Ocean Acidification, NIST is working with other federal agencies to create a more sustainable model to ensure the agencies and labs doing this critical work maintain their access to reference materials. NIST is building our capacity to certify reference materials for pH, total alkalinity, and total dissolved inorganic carbon.
In collaboration with the International Ocean Carbon Coordination Project, NIST is working to create a global ocean carbon reference material distribution network. The Global Ocean Acidification Observing Network has grown to a community of over 900 scientists from 105 countries. Expanding the RM production beyond one lab will hopefully reduce the cost of producing and distributing these materials. In early 2022, NIST participated in a planning workshop coordinated by IOCCP to outline the process for developing multiple centers which can bottle and distribute seawater for carbon measurements.
FY23 Planning and Beyond
NIST researchers are part of an ongoing collaboration with researchers from the Scripps Institution of Oceanography and University of East Anglia to expand our ability to model hydrogen ion activity in seawater by measuring electrochemical potentials in mixed ion solutions. This work will be continued in FY23 and the results will go into new software developed by the SCOR Marine Chemical Speciation Modelling in Seawater Working Group to aid in carbon system and metal speciation models. 
NIST will continue the process of value-assigning candidate RM 8083, a pH indicator dye calibrated over a range of temperatures and salinities appropriate to seawater and coastal waters. NIST will work to develop protocols for total alkalinity and dissolved inorganic carbon certification. Part of this process will involve comparing our capabilities with those of the Scripps Institution of Oceanography's seawater RM lab.
As a member of the committee organized by International Ocean Carbon Coordination Project to create a network of seawater reference material production labs, NIST will work to draft a position paper to promote the vision for a global system for production and supply of seawater RMs. NIST will also help to establish common procedures and best practices for quantifying uncertainty in secondary RMs produced by these labs.
Other RELATED Publications