To improve consistency within and across forensic science disciplines, ensure confidence in the accuracy, reliability, and reproducibility of laboratory results, and positively increase the impact of admissibility and expert testimony in courts of law, OSAC encourages our stakeholders in the forensic science and criminal justice communities to implement the standards on the OSAC Registry into their everyday practice.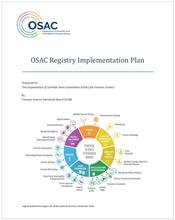 In August 2018, the FSSB prepared an OSAC Registry Implementation Plan for our forensic science partners that describes various strategies that OSAC might use to encourage our stakeholders to promote and implement the approved standards listed on the OSAC Registry.  
There are many potential pathways for implementation and OSAC's initial Registry implementation efforts will focus on crime laboratories and other forensic science service providers. At the July 2019 All-Hands Meetings, brainstorming sessions were held with each of OSAC's 25 subcommittees to identify the benefits, challenges, perspectives, and needs that crime laboratories and other forensic science service providers may face around implementation. An OSAC Registry Implementation Strategy Sessions Recap Report was developed which summaries the key findings resulting from the brainstorming sessions and includes a road map for next steps.
For our stakeholders getting ready to undertake standards implementation, here are some resources to help guide you:
Read the policy and position statements from professional forensic science organizations declaring their support for the development and implementation of forensic science standards.
Has your organization embarked on its implementation journey? Complete OSAC's Registry Implementation Declaration Form and send it to mark.stolorow [at] nist.gov to let us know. Share your implementation experience and be featured in a future OSAC news post.