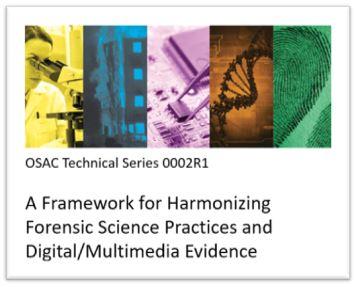 OSAC Technical Series Publication 0002R1
Published: January 2018, revised February 2019
Author: OSAC Task Group on Digital and Multimedia Evidence (Mark Pollit, Eoghan Casey, David-Oliver Jaquet-Chiffelle, Pavel Gladyshev)
Abstract: 
Like many other specializations within forensic science, the digital/multimedia discipline has been challenged with respect to demonstrating that the processes, activities, and techniques used are sufficiently scientific. To address this issue, in April 2015, the Organization of Scientific Area Committees (OSAC) for Forensic Science (OSAC) Digital/Multimedia Scientific Area Committee (SAC) established a Task Group (TG). This document summarizes the work of the TG that grew into establishing a harmonizing framework for forensic science practices and digital/multimedia evidence.
The TG researched and deliberated on the essential elements of digital/multimedia science, the nature of evidence examined, the overarching scientific principles and reasoning processes, the questions addressed by core forensic processes, and the activities and techniques which support the core forensic processes. It reviewed a large volume of pertinent literature, conducted interviews of practitioners, academics, and other interested parties.
Over a three-year period and many hours of debate, more than 40 discussion drafts were produced. The TG determined that digital/multimedia evidence, and other forensic disciplines, would be in a much stronger position to demonstrate their scientific basis as a harmonized forensic science rather than as mere disciplines at the intersection of forensic specialties and other sciences. The value of forensic science as a whole is that it uses scientific reasoning and processes within the framework articulated in this document to address questions – specific to an event or a case – for legal contexts, to provide decision-makers with trustworthy understanding of the traces in order to help them make decisions. The TG considered how the definitions and framework developed in the context of digital/multimedia evidence mesh with forensic science as a whole.
The present document describes the concept of traces as the core nature of forensic evidence and the fundamental object of study in forensic science. It proposes a broad definition of forensic science, not limited to legal problems in civil and criminal justice systems (courtroom contexts), and describes the different types of reasoning that play a significant role in forensic science. Then it defines five core forensic processes, seven forensic activities, and three operational techniques. The formalization of forensic science reasoning processes and outcomes in this work leads to increased reliability, repeatability, and validation in forensic results. This, in turn, gives
decision-makers increased confidence in and understanding of forensic results.
The resulting definitions and framework can be used to harmonize concepts and practices within digital/multimedia science, and are likely applicable to most forensic disciplines. As such, this work may be useful in articulating their scientific basis, and promoting forensic science as one science, which is more than the union of a patchwork of forensic disciplines. The new paradigm created by the digital realm brings a unique opportunity to revisit fundamental definitions in forensic science and to strengthen the identity of forensic science as a whole, unified by common principles and processes that can address questions for legal contexts.
This document represents the conclusions and recommendations of the TG as of the date of its writing. The work continues and future versions of this document can be expected to contain new observations and updated conclusions.