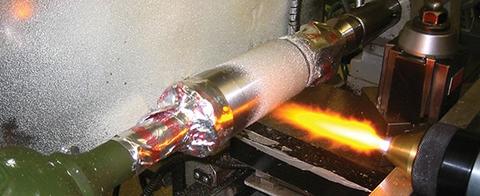 Goal: Create a consortium to develop a technology roadmap for the expansion and advancement of capabilities and competitiveness of the remanufacturing industry using the Circular Economy construct.
Background:  Remanufacturing is a comprehensive and rigorous industrial process by which a previously sold, worn, or non-functional product or component is returned to a "like-new" or "better-than-new" condition (it is not the same as recycling or repairing). The remanufacturing industry represents billions of dollars to our national economy.
Commonly remanufactured product categories include aircraft components, automotive parts, electrical and electronic equipment, medical equipment, and food-service equipment.  In order to address the future challenge of materials availability in manufacturing, the U.S. remanufacturing industry is moving into the necessary phase of environmental and economic restructuring.
Approach:  The Golisano Institute for Sustainability at the Rochester Institute of Technology (RIT), in collaboration with Energetics, Inc., assembled a consortium of prominent leaders within the remanufacturing industry from groups such as the Remanufacturing Industries Council, the Automotive Parts Remanufacturing Association, the Professional Electrical Apparatus Recyclers League, Caterpillar, GE Healthcare, and Davies Office, as well as researchers from Argonne and Idaho National Labs. 
The objectives were to: 1. form a consortium steering committee through the gathering of remanufacturing industry experts; 2. conduct a quantitative survey, literature review, and interviews and produce a white paper to be used at a stakeholder workshop; and 3. based on information gathered at the stakeholder workshop, develop a technology roadmap to expand and advance the capabilities and competitiveness of the U.S. remanufacturing industry. 
Outcome:  The consortium developed the "Technology Roadmap for Remanufacturing in the Circular Economy" through analysis of the most critical technical, market, and business challenges and opportunities facing the U.S. remanufacturing industry. 
The roadmap identifies and prioritizes 11 R&D projects designed to bring about transformational pre-competitive solutions to technology challenges that can be implemented in the near and long term.  Addressing these challenges can have substantial national impacts, such as supporting the health and growth of small and medium-sized manufacturers; retaining jobs and creating new ones; providing solutions to extend the life of military and civilian equipment; decreasing U.S. reliance on materials sourced in foreign countries; and addressing environmental challenges.
Based in part on this project, RIT was selected in 2017 by the U.S. Department of Energy to lead its new Reducing EMbodied-Energy And Decreasing Emissions (REMADE) Institute, a Manufacturing USA® institute.  This national coalition of leading companies and universities focuses on new clean energy initiatives deemed critical to keeping U.S. manufacturing competitive.
Lead: Rochester Institute of Technology
Funded Participants: Energetics Inc.
Award Number:  70NANB15H072
Federal Funding:  $495,608
Project Duration:  24 months
AMTech Project Manager: Thomas R. Lettieri
More information: http://www.rit.edu/gis/remanroadmap/