Report Upon the Physics and Hydraulics of the Mississippi
In the 1800's the United States experienced significant growth. The national territory grew from approximately 25% of today's size to what it is today, and the population increased fourteen-fold. However, the nation's progress was frequently hampered by devastating floods. In 1861, Capt. Andrew A. Humphreys of the U.S. Army Corps of Topographical Engineers completed a survey of the Mississippi river. This was the most thorough study of a river ever done up to that time. The survey provided guidance to Congress on how to manage the flood problem. This study exerted a decided influence on the subsequent development of flood control public policy and river engineering in the United States.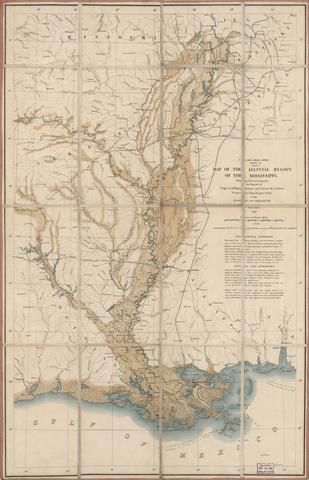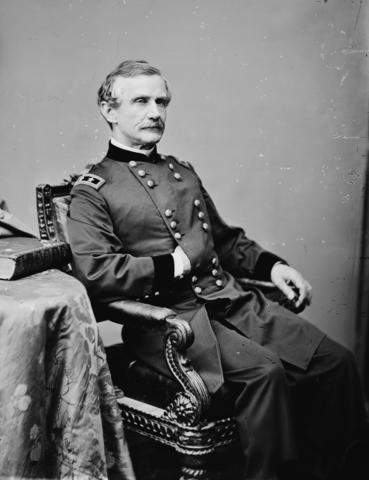 ---

Insurance Policy Against Loss or Damage by Fire or Lighting
In addition to the government efforts for mitigating flood and fire damages, the insurance industry in the 1800's also developed instruments to protect personal and commercial activities from natural hazards. Insurance coverage of property and crops against fires, hail, wind, and other hazards was offered by several companies across the country. This is a typical fire policy certificate from the Nebraska and Iowa Insurance Co., an insurer which was active during the 1880's. The policy was purchased by an individual in 1883 to insure his house and contents, grain,  and horses and mules against losses caused by fire and lightning.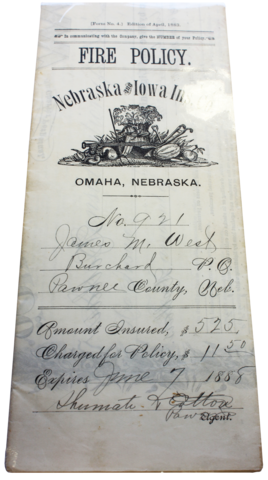 Policy Citation
Nebraska & Iowa Insurance Co., Insurance Policy Against Loss or Damage by Fire or Lightning. Omaha, NE, 1883.
---
The Great Tornado at St. Louis. St. Louis, MO: Graf Engravings
In the early evening on Wednesday, May 27, 1896, a tornado of tremendous proportions swept through St. Louis. Known as the Great Cyclone, the tornado cut a ten-mile (16 kilometer) swath of destruction through the city and surrounding areas. Close to 10,000 buildings were heavily damaged or destroyed and, in a mere twenty minutes, 255 people were killed. The cover of this pamphlet (left) from 1896 graphically depicts the suffering of the citizens of St. Louis after the deadliest tornado in the history of the city. The scientific study of tornadoes began in the late 1800's by John P. Finley (1854-1943), a meteorologist who studied for a period at Johns Hopkins University, and who also developed safety recommendations for the protection of life.