The NIST Archives is a collection of over 300 linear meters (1,000 linear feet) of documents, correspondence, reports, manuscripts, newsletters, biographical information and photographs. There are also approximately 10,000 slides and 500 drawings. The archives include materials from the 19th century to the present day.
Housed at the NIST campus in Gaithersburg, Maryland, the archives covers a wide range of topics, including scientific research, engineering projects, public policy initiatives, biographical information on current and past employees, and much more. The NIST Archives is a valuable resource for researchers, historians, and anyone interested in learning more about the history of the National Bureau of Standards / National Institute of Standards and Technology, and metrology, standardization, and science and technology in the United States.
While a substantial portion of the archives has been indexed, the process of fully cataloging and processing the materials is ongoing. Please contact library [at] nist.gov (library[at]nist[dot]gov) for assistance, requests and questions.
NIST Digital Archives (NDA)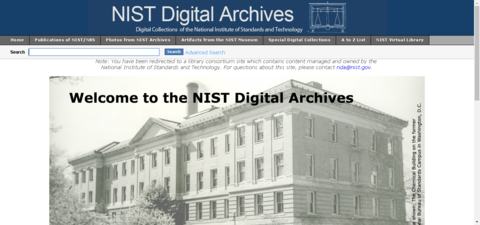 Visit the NIST Digital Archives to explore the vast collections of the NIST Museum and Archives.
Highlighted Collections:
You can download and print (on 8 1/2" x 11" paper) postcards of some popular historic images: