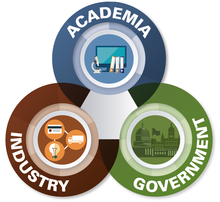 #ICYMI - Monthly Meeting Recap
Meeting minutes from the February 22, 2023, NICE Community Coordinating Council meeting have been published. The meeting included speakers from the World Economic Forum, Whatcom Community College, the State of Montana, RAND Corporation, and the US Cyber Games.
Take a look at some key highlights from our meeting:
Standing Items
Report Roundup
Gretchen Bueermann and Natasa Perucica from the World Economic Forum shared their Global Cybersecurity Outlook 2023 report. The report showed us the differences between business leaders (board members and chief executive officers) and cybersecurity leaders (information security officers and chief security officers) on how they think about cybersecurity skills priorities. 
Strategy Stories
Corrinne Sande from Whatcom Community College shared about their upcoming Cybersecurity Across Disciplines (CyAD) Conference. The event will be held on August 1-2, 2023, and will focus on integrating cybersecurity content across all STEM disciplines at community and technical colleges and supports the NICE Strategic Plan objective 2.2:  "Advocate for multidisciplinary approaches that integrate cybersecurity across varied curricula that support diverse learners from a variety of backgrounds and experiences."
Framework Feature
Andy Hanks from the State of Montana shared that Montana is using the NICE Framework to grow their Information Security and Data Privacy program. The framework is primarily used for employee self-assessments, workforce development, program management, and program development.
Research Review
Sasha Romanosky and Ryan Johnson from the RAND Corporation shared their recent publication: Comparison of Public and Private Sector Cybersecurity and IT Workforces. The data showed us that the public sector emphasizes the prevalence of computer and IT support roles as well as management roles, while the private sector emphasizes the demand for software development and testing roles.
---
Working Group and Community of Interest Updates
Project Updates
The Promote Career Discovery Working Group and K12 Cybersecurity Education Community of Interest continue to collaborate on the National Cybersecurity Ambassador Program. 
The Transform Learning Process Working Group is producing a two-pager on internships, scholarships, and pathways for adjunct professors.
The Modernize Talent Management Working Group has completed an initial draft of 'Writing Effective Job Descriptions for Employers'. 
The NICE Framework Users Group shared that the Cybersecurity Skills Journal (CSJ) is seeking proposals that examine the usefulness, benefits, and challenges associated with the adoption, adaptation, or extension of the NICE Framework
Past Meeting Presentations
Upcoming Meeting Presentations
Learn how to join a Working Group or Community of Interest
---
Project Progress Reports
The NICE Conference & Expo registration is now open! Secure early bird rates through March 19th. Register on the conference website. 
The NICE K12 Cybersecurity Education Conference is seeking volunteers for the 2023 Planning Committee. Meetings will be on the 4th Thursday of each month. conference [at] ikeepsafe.org (Email the conference organizers) to volunteer. 
The US Cyber Games is kicking off their Season II Pipeline Program. The program will provide additional training and mentorship to 20 US Cyber Combine athletes.
---
Learn More
The NICE Community Coordinating Council meets monthly to engage with public and private sector participants on cybersecurity education, training, and workforce development topics. 
Additionally, the NICE Community Coordinating Council is comprised of three Working Groups and four Communities of Interest, each with their own meeting cadence.