Undergraduate students…are you looking for an extraordinary opportunity to propel your professional development and career forward? Well, there's nothing quite like the experience of participating in the National Institute of Standards and Technology (NIST) Summer Undergraduate Research Fellowship (SURF). Develop new technical skills, expand academic interests, refine career goals, and gain a clearer picture as you chart your future next summer! During the summer of 2023, the NIST Physical Measurement Laboratory's (PML) Office of Weights and Measures (OWM) plans to host two undergraduate students who are passionate about Science, Technology, Engineering, Arts, and Mathematics (STEAM) education and using the International System of Units (SI).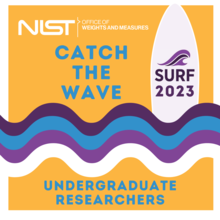 During the annual 11-week paid internship appointment, scheduled from May 22 to August 3, 2023, participants will gain experience in legal metrology, calibration laboratory operations, the metric system, and federal public service. Working with their research advisor, students will collaborate with national subject matter experts to develop and publish new resources, contribute to impactful education outreach events, build technical communication and analytical skills, attend professional development seminar presentations covering diverse STEAM topics, and expand their professional network. The two NIST OWM 2023 SURF research projects are summarized below.
Please share these opportunities within your professional and community networks. Encourage qualified undergraduate students to apply today! Candidates must successfully complete the online application and submit the required documents before the deadline (February 1, 2023, 11:59 PM ET). NIST offers additional Student Employment options at various career pipeline stages.
2023 OWM SURF Project Proposal Highlights

Laboratory Metrology Proficiency Testing and Training Resource Development Project

(Research Advisor: Isabel Chavez-Baucom)

STEAM Training and Education Outreach Resource Development

(Research Advisor: Elizabeth Benham)

Candidate will develop OWM Proficiency Testing (PT) Program quality and statistical analysis tools, program and implement a PT tracking and process management scheme with companion user instructions, improve the PT artifact inventory management process (Access database) that is used by national PT program coordinators and participants to support calibration laboratory Recognition and Accreditation requirements. Candidate will collaborate to develop measurement science training resources, including video scripts and storyboards. Videos may include: PT Quality Manual (NISTIR 7214) and PT Test Policy and Plan (NISTIR 7082) topics, such as statistical equations and Pass/Fail criteria; or laboratory operating procedures and techniques, such as care and handling of state standards (GLP 3), understanding factors affecting weight operations (GMP 10), and standard operating procedures (SOP 8); and/or general "Welcome to Training" topics that support OWM's IACET accredited Training Program. The candidate will serve on an OWM working group exploring new modes of training service delivery. Note that this project will be hosted as an in-person (Gaithersburg campus) workplace experience only.

Candidates will apply K-12 instructional techniques to develop new and enhance existing classroom lesson plans and companion videos. Topics may explore U.S. metrication, applying the International System of Units (SI), communicating base and derived unit relationships (NIST SP 1247), using SI prefixes to modify unit magnitude, estimating temperatures in degree Celsius, using a metric ruler (NIST SP 376) to calculate length, area and volume, selecting scientific glassware, reading a meniscus, measurement in sports, metric system cooking and recipe design. The researcher will be responsible for developing unique graphic design assets, training video script writing, storyboarding, and editing support, performing public presentations for adults and school age audiences. Typical tasks may include reviewing current outreach and technical publications, websites, and presentations for design and content improvements, copy writing, updating OWM website assets for entry into the NIST Educational STEM Resource Registry (NEST-R). Note that this project will be hosted as an in-person (Gaithersburg campus) workplace experience only.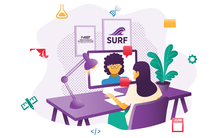 About Us. The National Institute of Standards and Technology (NIST) is the national metrology institute (NMI) of the United States. Founded in 1901 and now part of the U.S. Department of Commerce, NIST is one of the nation's oldest physical science laboratories. The Office of Weights and Measures remains the earliest established office at NIST (1836), continuing to support equity in the marketplace by providing documentary standards and services for legal metrology – the practice and process of applying regulatory structure and laws enforcement to measurement science.