Lights, camera, action! The vision to expand training capabilities within the Office of Weights and Measures (OWM) IACET accredited Training Program has become a reality. This summer, Rich Montgomery has kicked-off the production of a variety of training products in the new OWM Studio 220 facility, including video and live-stream broadcast events.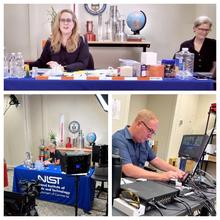 Livestream Broadcasting Capabilities 
For over a decade, OWM has offered online webinars to compliment traditional "hands-on" in person seminars. New broadcast capabilities have been selected to raise virtual event quality. Ongoing regional training across the United States will be enhanced by these new capabilities. OWM's abilities support hosting hybrid training events, scenarios where both in-person and virtual instructors and learners must concurrently "connect." The option to attend hybrid training events will offer more flexibility than ever for learners and stakeholder organizations seeking professional development opportunities. Studio 220's first broadcast occurred as part of the annual NIST Summer Institute for Middle School Science Teachers Program. The two 2-hour sessions featured Metric Estimation and Measurements in the Marketplace activities designed for educators to replicate in their classrooms.
Upcoming Videos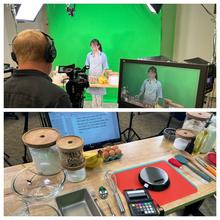 OWM is known for delivering exceptional learning experiences. New video production capabilities are significantly expanding the scope of measurement science training and outreach activities. Building a diverse technical video library will improve self-directed training, using OWM resources when and where it best aligns with your schedule. Videos help visualize important concepts, demonstrate measurement techniques and standard operating procedures (SOPs). OWM videos will augment in-person seminars, webinars, and hybrid events. OWM videos will be published in the NIST Video Gallery and embedded within program webpages. 
OWM video topics will have something for everyone.  Metrology vocabulary guidance, measurement device and field inspection processes, laboratory calibration procedures, technical techniques and tips, SI (metric system) topics, and more!
What type of OWM videos would help enhance your professional development and support your weights and measures program training needs? Let us know - share your feedback! Complete the Participant Survey "training needs" section following each OWM learning event that you attend or contact OWM directly at owm [at] nist.gov.