We have more good news to share! Read on for several important announcements.
External Review
The Baldrige Performance Excellence Program is pleased to announce that a request for quotes has been issued through the GSA Schedule for the "Baldrige Reimagined" external review referenced in our last update.
We are looking forward to this contract being awarded to the best-qualified vendor and having this study underway.
The upcoming review process will include both independent review and engagement by the contractor with our key stakeholder groups to obtain their perspective on our program and the Baldrige Award, as well as their input on what might be done to enhance our reach and impact. If you happen to be contacted, we sincerely hope that you will be willing to share your thoughts and suggestions on how to improve our ability to foster excellence and position the program to achieve even greater impact for the nation.
New Baldrige Award Category Approved: Community
With the signing of the federal CHIPS and Science Act on August 9, "Community" was authorized to be added to the current six Baldrige Award eligibility categories for applicants: Manufacturing, Service, Small Business, Health care, Education, and Nonprofit.
This exciting development follows many years of visioning, strategy, and action by many in the Baldrige community, especially the leaders of Communities of Excellence 2026 the Alliance for Performance Excellence, and the Baldrige Foundation.
The addition, subject to Congress's provision of the necessary funding, will create the opportunity to significantly expand the reach and impact of the Baldrige Program. We are thrilled about the prospect of fostering excellence across entire communities to complement our efforts to help improve the performance, resilience, and long-term success of individual organizations.
Job Quality Toolkit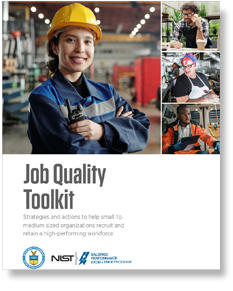 On August 5, Secretary of Commerce Gina Raimondo and Secretary of Labor Marty Walsh officially launched the Job Quality Toolkit. The Baldrige Program has been leading the effort to develop a Job Quality Toolkit that is intended to be an easy-to-use tool for organizations of all kinds, particularly those that are small and medium-sized. The toolkit is a menu of vetted strategies and actions from which leaders and their workforces can collaboratively choose to increase the quality of jobs offered. The Baldrige Program's work on this job quality initiative included a thorough literature search and extensive engagement with over 60 national experts, nonprofits, businesses, academics, and leaders in government.
The toolkit is deeply rooted in the Baldrige Excellence Framework®, and a key objective is to introduce organizations to Baldrige principles and encourage them to engage with their local Baldrige-based program in the Alliance for Performance Excellence in order to help them with improvements related to job quality, as well as other areas of importance to organizational success.
Implementation plans include working with Alliance programs and Manufacturing Extension Partnership Centers to distribute the toolkit through existing relationships and leverage the toolkit to create new relationships.
2023-2024 Baldrige Excellence Framework Booklets
We are also now finalizing draft revisions to the Baldrige Excellence Framework® (which includes the Criteria for Performance Excellence®), as we move toward publishing the 2023-2024 version later this year. The next step is to seek input on the draft from external reviewers in the business, nonprofit, health care, and education sectors.
The Baldrige Executive Fellows
Eleven years ago, the Baldrige Executive Fellows Program® kicked off to introduce the Baldrige framework to executives across industries. Through 2022, 162 executives have participated in the program, which has included visits to Baldrige Award recipients to witness best practices in action and capstone projects to tackle strategic issues. Fellows have continued to develop peer networks, even after graduation, to support each other through the challenges of leadership. The 2023 cohort of Baldrige Executive Fellows is being recruited now.