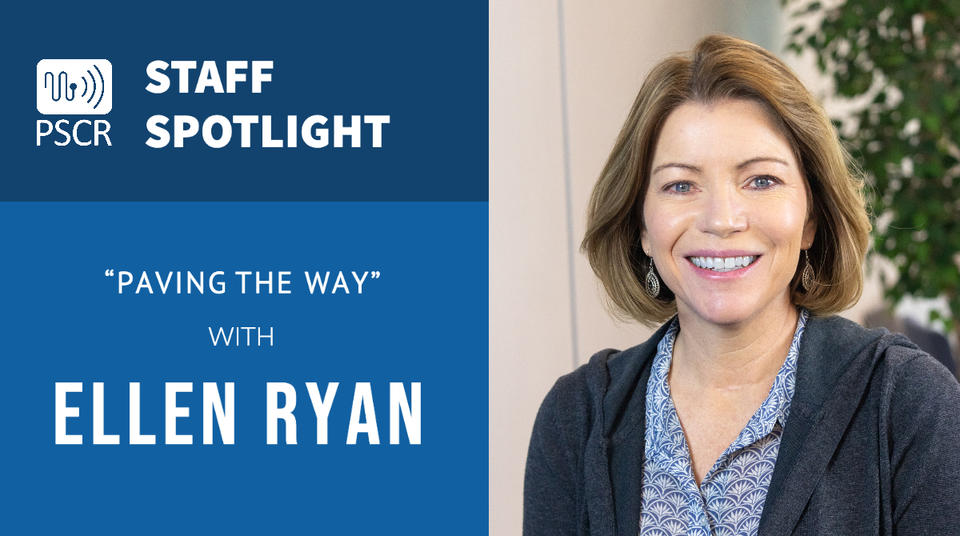 Ellen Ryan is the Deputy Division Chief and team lead for the Open Innovation program with NIST's Public Safety Communications Research (PSCR) division. Ryan's unmatched passion for teamwork and paving the way to ensure others succeed brings tremendous value to the division (and everyone she meets).  Bringing a blend of mission-driven attitude and technical expertise, Ryan is a superlative leader for the world-class team of experts on NIST PSCR's Open Innovation team, which is recognized government-wide as a model for open innovation execution.
PSCR's communications team interviewed Ryan to understand the challenges she faced as a pioneer for women in the engineering field, and the inspiration that drove her to professional success.
---
Can you describe your current role? 
ER: I'm currently the Deputy Division Chief and the team lead for the Open Innovation program at PSCR. But honestly, I feel my role is truly more about enabling others to do their best work. I feel it's my responsibility to clear challenges to allow people to focus on what they're good at.
When I came to PSCR, I thought I would be an engineer in the lab. I think because of my job experience, and 20 years in the telecommunications industry, I had a skill set that was beneficial to the new PSCR division. We were in the process of bringing in engineers from private industry and I happened to have experience with technical work, building labs, doing research, new product development in the telecommunications area, and I'd been a manager for about 15 years. I was asked to take over the lab support and operations group; later, I took on the role of team lead for the Open Innovation program.
Who do you think was most inspirational or influential in your career choice as an engineer?
ER: My mom and dad. My dad was a civil engineer and worked for the federal government. My mom was one of the very few women in her community to get a four-year college degree. Back then, before World War II, women going to college for four-year degrees was not commonplace in her rural community. Her father was a teacher and encouraged her to continue her education. I think that both my mom and dad, because of the career choices they made, were my inspiration.
In my family, it was always a given that we would do our best in school, go to college, and take math and science classes. I can attribute my career path to the importance that my mom and dad put on a good education. They influenced not just my career, but the way that I handle myself and communicate with other people. Their work ethic and the way they respected others was always an inspiration to me. My dad was an equal opportunist and environmentalist before those phrases were catchy or mainstream. My eight brothers and sisters and I always worked hard. Everyone had to tend to the garden. Everyone had to clean the house. Everyone had to do the dishes. We even had to learn how to change the oil and tires on a car (that was a prerequisite to getting a driver's license). My dad wanted to make sure that not only his sons but his daughters would be independent. He was really ahead of his time. 
Another inspiration was my third-grade science and geography teacher, Mrs. Erickson. I still can't believe I remember her to this day! She was left-handed and so was I. I was very self-conscious; I had terrible handwriting. But, Mrs. Erickson took the time to teach me how to write left-handed. My earliest memories of falling in love with geography and natural sciences were really due to her passion.
Were there any women in the engineering field that you encountered through your studies or past work experience that were inspiring to you?
ER: I have encountered remarkable women in the field, but always more on a peer level. I never had a woman who mentored me or who I wanted to emulate - I wish that there could have been those kinds of role models for me through college and my early career. When I entered the Computer Science major at my school, it was the first year of the accredited program for obtaining a bachelor of science degree in computer science and engineering, and I was one of only two women enrolled in the entire university. I had no other women to even work with - it was challenging not only for me but for the professors and other students. It took awhile for them to get used to having women in their classes and labs.  
At my first job, I felt like the women who were managers when I came in as a software developer did not have a helpful attitude, but rather wanted me to move forward the hard way (like they had). Looking back on that time, maybe they were trying to help become a stronger person who could rise to the challenges of working in a new field for women. That was my personal experience. I'm sure there are people my age who had other experiences. 
But, our experiences shape us, and that is one of the biggest reasons that I feel a part of my job is enabling others to do their best work. I want to learn from what I had to go through to make it easier for the next generation of women in engineering, and all engineers.
What do you like about being an engineer?
ER: I've always admired people who can take a complex subject and explain it in a way that makes it easy to understand and get on board. That is one quality I feel is common in people that I admire professionally. I worked at a startup company before coming to PSCR, and the CEO had a gift for taking challenging topics and deconstructing them.
At PSCR, we are identifying gaps in technology that no one else on the planet is working on to make a difference. We're diving into technology gaps and trying to make people aware of them, and getting them excited about solving problems for first responders. It is challenging but so gratifying to be able to take technical problems and deconstruct them to come up with a solution. 
How do you think we, as a society, can encourage more girls and women to enter the engineering sphere? 
ER: There's not just one answer. From my own experience, it starts with your family - with parents taking the time to teach their children about math and science, taking them to museums, showing them different experiences, and taking time to help them learn. When I was a kid, my dad bought a computer before anyone had computers. We had to build it, we had to put the motherboard together, physically build a box with metal, and build the keypad. I was fascinated! He and I built the compiler for the Basic language, and I didn't even really understand what I was doing. It was like learning to change the oil in my car - I looked at it as this big, intimidating thing and I had no idea where to start. But, it is so helpful when someone takes the time to help you dig into a problem.
I think it's also important that this attitude carries over into school - we need to have educators who believe that women can be just as smart in math and science as men. They play a huge role in influencing kids. I remember in college, I had an electrical engineering professor who told me he would never see women as engineers -- and this was a professor! We, as a society, need to change this whole mindset. I think the younger we can encourage young women and girls to be interested in science fields, the better. 
Lastly, I think women like me should do what we can to encourage others. We're all so busy with our own careers, but it's important that we pave the way for younger generations. When you get to the point in your career that you're able to give back to the community and help everyone, you should. 
What would you like to say to women/girls who are considering a career in engineering?
ER: Don't be intimidated; intimidation just holds you back. I know so many young women who lacked the confidence that they deserved to have. Dig deep inside, and do your best to not be intimidated, or feel inferior. Seek out people who will help you and make you feel good about yourself - because we're out there, sometimes you just have to reach a little bit.