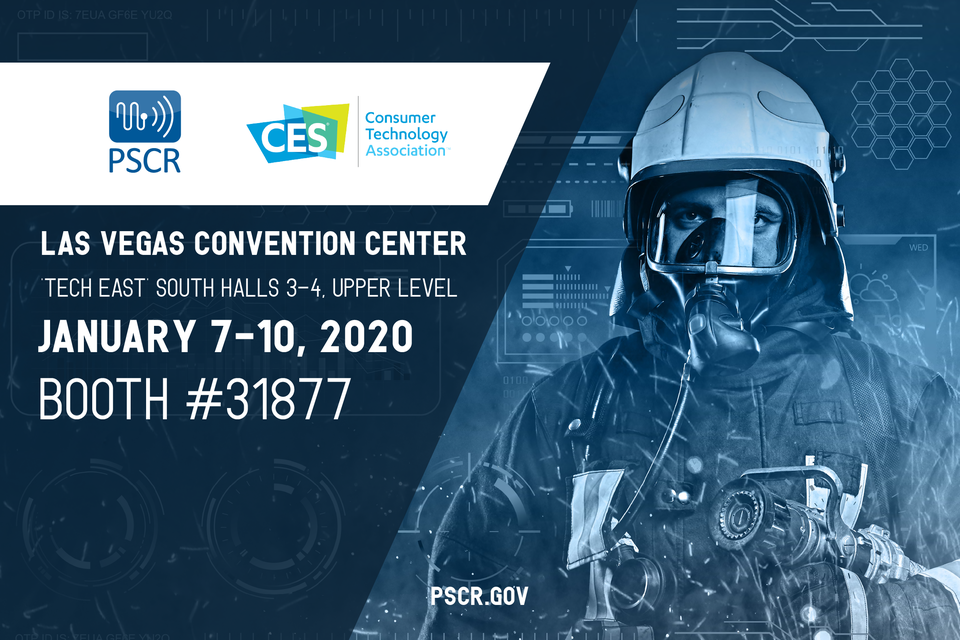 In January, NIST's Public Safety Communications Research (PSCR) Division will exhibit at the Consumer Electronics Show (CES) for the fourth time. Division staff will travel to the event to engage with the commercial industry and solver community, and raise awareness of PSCR's mission, research, and funding opportunities. PSCR, which accelerates innovation by investing in research to transform the future of public safety communications, technology and operations, expects to highlight its innovative internal and external research investments. CES, which attracts more than 4,500 exhibitors and more than 170,000 attendees, is a grand stage for outreach to new, non-traditionally federal innovators - and those who may be unaware of public safety communications opportunities.
>>Read more about why PSCR goes to CES
>> Learn about other public safety activities at CES, via FirstNet
If you'll be at CES 2020, make sure to drop by the Las Vegas Convention Center, Tech East, South Halls 3-31877. PSCR will have an array of displays and demonstrations available for attendees to interact with. 
---
Mixed Reality Training and Testing Facility for First Responders (January 7 - 8)
The User Interface award recipient, TRACLabs, will join PSCR's exhibit to demonstrate their platform, Virtual and Augmented Laboratory for Objective Realities (VALOR). TRACLabs intends for VALOR to provide training and testing for first responders as well as a validated virtual testbed for assessing the impact of new technologies on first responders. The demonstration will place attendees in a virtual world that interacts with real - rather than virtual - furniture and boundaries. Attendees will be tasked with extinguishing a fire and rescuing a baby in an apartment fire scenario. The 'mixed reality' components of this demonstration immerse users in the scenario to the extent that it feels more real than virtual, thus distinguishing this technology application from earlier, cruder iterations.
Operational Protective Equipment (January 7 - 10) 
PSCR's stakeholders Ken Link, Monroe Township Fire Department; Paul Roberts, Boise Fire Department; and Richard Reed, Aurora Fire Department will exhibit their fire and SWAT personal protective equipment (PPE), which CES attendees may try on. These public safety representatives, who are extremely familiar with the PSCR program, will share first responder perspectives from their experiences working with communications technologies. These stories contextualize the research and development (R&D) PSCR is conducting through the lens of first responder daily operations and experience. The public safety representatives will invite attendees to experience the equipment they wear every day, which stands to improve because of PSCR's R&D, to highlight the inherent obstacles in using commercial products for first responder operations. 
Cognition-Driven Display for Navigation Activities (January 9 - 10)
User Interface award recipient, University of Florida, will demonstrate cognitive load sensing of a subject undergoing various tasks in virtual reality (VR), including their navigation through a smoke-filled fire environment and localization of a hidden individual through the use of haptic feedback. This award recipient measures cognitive load using neuroimaging (brain sensing) technology.  Attendees will be invited to experience the VR scenarios and view the neuroimaging in process while researchers undergo the virtual experience themselves. This demonstration visualizes the multitudes of information a first responder receives during operations and how it can affect their response times. 
ARTEMIS QUARC: Quality Under Adjustable Realistic Conditions (January 9 -10)
 Mission Critical Voice Quality of Experience award recipient, Georgie Technical Research Institute, will demonstrate their software, QUARC, which produces audio output based on the adjustment of various Key Performance (KPI), such as access time and mouth-to-ear latency. The resulting audio allows users to hear the effect of each KPI or compounded KPIs on voice intelligibility or push-to-talk services. The software interface will allow users to simulate the effect of several indicators of audio quality impairment on recorded audio signals, as it relates to intelligibility, and play the original and impaired audio clip for direct comparison.
Real-Time Video Analytics for Situation Awareness (January 7 - 8)
Public Safety Analytics award recipient, Carnegie Mellon University, will demonstrate two different video analytics applications at PSCR's exhibit. The first is a system that predicts traffic accidents using video input from traffic cameras to predict collisions seconds prior to their impact and short-term future person activities and trajectories. The future-person prediction, in combination with collision prediction, could help authorities identify near-misses as well as improve safety in self-driving applications. Carnegie Mellon will also demonstrate gunshot detection, gun type classification, and shooter localization using social media videos. By way of video demonstrations, the award recipients will show how their system uses social media input to obtain crucial information in active-shooter scenarios such as location of the shooter and type of firearm.
SIM Card Multi-factor Authentication (January 7 - 10)
This demonstration will showcase the winning application from a recent PSCR prize challenge, Expanding the SIM Card Use for Public Safety. PSCR will show how a SIM card can be used for two-factor authentication, granting a user secure access to all their application on a device using their SIM card (something they already have), and their thumbprint (something they already are), or their password (something they already know). Authentication using the SIM card is an alternative to responders carrying an external-to-phone device to authenticate that could be misplaced or lost. The winning prize team, Solokeys, provided PSCR with their software to demonstrate.
Augmented Reality (AR) - Traffic Stop Scenario (January 7 - 10)
Using the Vuzix Smart Glasses, PSCR will demonstrate an AR application in a traffic-stop scenario, comparing possible driver licenses a driver may present to the responding officer. While wearing glasses that appear like any ordinary pair of eyewear, a user will see a visual cue of color and accompanying haptic feedback (vibration) when viewing a driver license with a criminal record. A user can compare this to the different cues they receive when viewing a license with no criminal record or a license that cannot be matched to a record. This demonstration intends to stimulate the kind of technology that could eventually be integrated into first responder eyewear to provide field of view information that is unobtrusive to the user. 
Augmented Reality (AR) - Improvised Explosive Device (IED) Components Demo (January 7 - 10)
Using the MagicLeap AR headset, PSCR will demonstrate how AR could assist with the analysis of an IED in an operational scenario. Users will be able to view an IED via AR technology, and manipulate the field of view to see individual components while wearing the MagicLeap headset. This demonstration shows another use case and application where AR can assist public safety in their responses. 
Virtual Reality (VR) - SWAT Scenario (January 7 - 10)
Using the Oculus Quest VR headset, PSCR will demonstrate a realistic SWAT scenario. The scenario involves the user playing the role of a SWAT team member responding to an active shooter event in a parking garage. The user sees their injured partner, and must locate and address up to 10 targets as they appear randomly throughout the parking garage. PSCR developed this environment prior to the Haptic Interfaces for Public Safety Challenge, which tested haptic feedback (physical taps on skin) prototypes to learn their effect on improving emergency response times. This VR demonstration will not include the haptic feedback, however, the winning prototypes from the Haptics Interfaces Prize Challenge will be on display. 
Additional Displays (January 7 - 10)
.