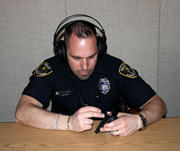 The audio codec (also called speech codec, voice coder, or vocoder) is a key hardware/software component in every digital radio or handset. At a transmitting location, the codec processes incoming audio into a concise digital representation for efficient transmission over the air. At the receiving location, the codec converts this digital signal back into an approximation of the original audio signal. While many emergency response agencies are using digital radio systems with success, field reports indicate that in some light to moderate background noise environments, the codecs in digital radio systems are distorting voice communications. In loud background noise scenarios, this distortion tends to increase and may even make voice communications completely unintelligible—posing a threat to mission-critical operations.
"Audio intelligibility is drastically improving thanks to the countless efforts and passion of Mr. DJ Atkinson's work in 2008 and PRCS's continued research that provides firefighters with a pathway to safety."
- New Jersey Fire Department Lieutenant Ken Link
AN INNOVATIVE APPROACH
PSCR is working to mitigate this problem in current systems and is guiding technology choices to prevent this problem in future systems. PSCR designs, conducts, analyzes, and documents objective and subjective speech intelligibility tests to discover the conditions in which speech intelligibly is reduced, the severity of those reductions, and technology alternatives that can lessen those reductions. Disseminating this information ensures that manufacturers' implementations will meet the operational needs of public safety officials. PSCR has:
•    Designed numerous tests involving radio systems and other communication system components in many different noise environments
•    Performed preliminary speech intelligibility testing using software tools
•    Formally tested each radio system or component within each noise environment by requiring listeners to distinguish words spoken over different background noises of interest, including saws, alarms, sirens, other equipment, and crowds
•    Partnered with various agencies to allow their practitioners to participate in these tests
•    Analyzed test results and prepared detailed technical reports for distribution to stakeholders
•    Identified procedural and technical steps to minimize negative consequences of emergency response background noises
VALUE TO PUBLIC SAFETY
Speech communications are essential to the success of emergency response operations. PSCR:
•    Works with practitioners to identify the causes of and potential solutions to critical communications problems found in digital radios
•    Serves as a technical advocate to represent the needs of public safety to ensure that new technologies improve the quality of speech communications rather than impair it
RESULTS
PSCR published four major reports containing speech intelligibility measurements results for many existing and emerging radio systems and other communication system components. These reports fully document the carefully controlled conditions and rigorous statistical tests that are paramount to the measurements. Reports and data are available at pscr.gov and www.its.bldrdoc.gov.
SELECTED PUBLICATIONS
Speech Codec Intelligibility Testing in Support of Mission-Critical Voice Applications for LTE
Intelligibility of Analog FM and Updated P25 Radio Systems in the Presence of Fireground Noise: Test Plan and Results
Intelligibility of the Adaptive Multi-Rate Speech Coder in Emergency-Response Environments
Intelligibility of selected radio systems in the presence of fireground noise: Test plan and results