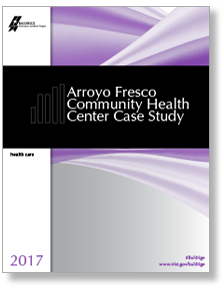 According to the Centers for Disease Control and Prevention, "Working at the community level to promote healthy living and prevent chronic disease brings the greatest health benefits to the greatest number of people in need. It also helps to reduce health gaps caused by differences in race and ethnicity, location, social status, income, and other factors that can affect health."
The 2017 Baldrige Case Study: Arroyo Fresco Community Health Center brings such community health to life, depicting a fictitious health center working to improve the clinical outcomes of its population, while striving to be ever-more efficient with limited resources.
What lessons can other organizations learn from studying such a center's community focus, best practices, and innovation? How might other health care organizations learn from how Arroyo Fresco Community Health Center is using the Baldrige Excellence Framework: A Systems Approach to Improving Your Organization's Performance and its Criteria to improve its health benefits?
The 2017 Baldrige case study can help organizations of any size and sector learn more about the Baldrige framework and how to use it to assess their own performance. Baldrige examiners and participants at the most recent national training had the opportunity to practice such an assessment and more. As part of the 2017 Malcolm Baldrige National Quality Award Examiner Preparation Course, they explored how the fictitious 2017 Baldrige Case Study answered the questions in the Baldrige Excellence Framework, and how the organization measured up to the Baldrige evaluation factors. This same case study is also being used by Baldrige-based organizations that comprise the Alliance for Performance Excellence and by other organizations interested in pursuing improvement and excellence.
The 2017 Baldrige case study depicts a nonprofit, community health center serving western Arizona from 11 clinics and 4 mobile service vans. Created by volunteer Baldrige alumni examiners Kay Kendall, Joe Muzikowski, and Glenn Bodinson, the fictitious Arroyo Fresco was written to represent community health centers, which were established over the past 50 years in underserved areas in all 50 states. (The case study was reviewed by Baldrige alumni examiners Beth Katzenberg and Steve Bonk.) Fast-growing communities along the U.S.-Mexican border, as well as Native American and retiree populations, are represented in the case study. Barriers to care include lower levels of prevention screening, less efficient and effective detection and management of chronic disease, large incidences of diabetes and diabetes-related mortality, and other chronic health problems, such as asthma, cardiovascular disease, depression, obesity, and substance abuse and other addictive behavior. To address these, Arroyo Fresco has developed core competencies in providing culturally competent, patient-centered care; expertise in the treatment of diseases prevalent within its patient population; and collaborative relationships that increase access to specialty care and other services. "Enabling services" the organization provides its patients include transportation, translation, health education, and home visitation. Arroyo Fresco Community Health Center uses the Baldrige Excellence Framework to guide its strategy, leadership and management systems, knowledge management system, and performance improvement. 
You can learn how Arroyo Fresco Community Health Center scored in an assessment against the 2017–2018 Baldrige Excellence Framework through various products:
2017 Arroyo Fresco Community Health Center Consensus Scorebook (Word) was produced by a team of Baldrige examiners (Kathy Burke, Luis Calingo, Janice Garfield, Denise Haynes, Jan Johnson, Ingrid Philibert, Marlene Yanovsky) who evaluated the fictitious organization against the Criteria. This scorebook also includes insights gleaned from Baldrige examiners who participated in the 2017 Baldrige examiner preparatory class.
2017 Arroyo Fresco Community Health Center Feedback Report (PDF) shows the scorebook comments in the format of the reports received by actual Baldrige Award applicants at the end of the annual evaluation process.
Beyond learning from best practices and other examples in this case study, health care organizations that wish to get started with Baldrige-based performance improvement can access sector-specific resources online at "Baldrige by Sector: Health Care" and basic ideas for how to get started using the Baldrige framework. Resources for business, education, and nonprofit organizations are also available online.
Since 1987, the Baldrige Program has produced case studies that describe how fictitious organizations are fulfilling the requirements of the framework and continually improving in challenging situations and economies. The case studies rotate sectors in order to show examples for a variety of organizations using the three versions of the Baldrige Excellence Framework: Business/Nonprofit, Health Care, and Education.
Baldrige case studies have at least three purposes. First, given that actual Baldrige Award applications remain confidential until award-winning organizations approve selected content for public sharing, the case studies are used to train examiners for the Baldrige Program's annual award process. Second, the case studies serve as sample applications for organizations interested in applying for a Baldrige Award or in writing a whole or partial application as a self-assessment. In addition, the case studies show organizations in every sector how they might use the Criteria questions to assess and improve their performance, even if they are not interested in applying for a Baldrige Award.
Additional Baldrige case studies are available in an online archive of publications.