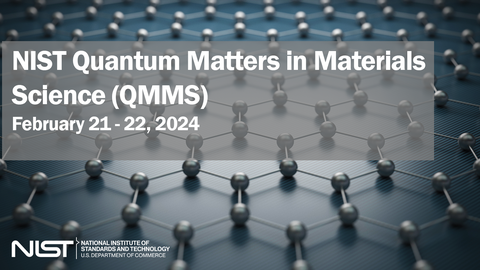 As a part of the JARVIS workshops series, NIST is organizing the 3rd Quantum Matters in Materials Science (QMMS) workshop in person on Feb 21-22, 2024. The workshop will be focused on quantum phenomena in emerging materials for next generation devices. All materials are inherently quantum in nature, but only when quantum phenomena manifest at the classical scale can we hope to leverage their properties for applications. Large scale initiatives such as the Materials Genome Initiative, the National Quantum Initiative, and the CHIPS for America Act represent a compelling approach to investigate quantum materials and accelerate their development for quantum information systems (QIS), for the use in future integrated circuits, and other practical industrial applications. For this approach to be successful, it is essential to have good synergy between experimental and computational work. This workshop aims at streamlining this effort. To make the workshop as effective as possible, we plan to mainly focus on 2D and 3D inorganic superconductor, topological, magnetic, and semiconducting materials, but we are not limited to those systems.
 Some of the key topics to be addressed by both theory and experiments are:
1) discovery and characterization of new superconductors/topological, magnetic, and semiconducting materials,
2) optimization of known quantum materials,
3) investigation of defect induced behavior and transitions,
4) Electronics, spintronics, and quantum memory applications,
5) challenges in applying QIS technologies at industrial scale,
6) successes and challenges in integrating next-generation materials into integrated circuits (microchips),
7) High fidelity many-body computational methods to treat quantum materials.
8) applications for quantum computing and quantum simulations
CALL FOR ABSTRACTS
If registered participants are interested in presenting a poster, please send name, affiliation, title, and abstract to daniel.wines [at] nist.gov no later than 10/6/2023.
Confirmed Speakers
| | |
| --- | --- |
| Aldo Romero | West Virginia University |
| Elif Ertekin | University of Illinois Urabana-Champaign |
| Adrienn Ruzsinszky | Tulane University |
| Felipe Jornada | Stanford University |
| Wolfgang Windl | The Ohio State University |
| Wennie Wang | University of Texas at Austin |
| Mohammad Hafezi | University of Maryland |
| Sohrab Ismail-Beigi | Yale |
| Andre Clayborne | George Mason University |
| Xiaofeng Qian | Texas A&M University |
| Mauricio Terrones | Penn State University |
| Susan Sinnott | Penn State University |
| Cheng Gong | University of Maryland |
| You Zhou | University of Maryland |
| Deep Jariwala | University of Pennsylvania |
| Kin Fai Mak | Cornell |
| Barbara Jones | IBM |
| Vrindaa Somjit | Argonne National Lab |
| Jeonghwan Ahn | Oak Ridge National Lab |
| Darshana Wickramaratne | Navy Research Lab |
| John Lyons | Navy Research Lab |
| Albert Davydov | NIST |