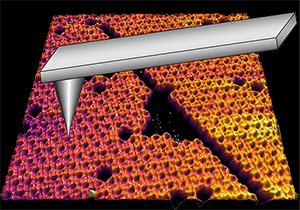 NIST is closely monitoring guidance from Federal, State, and local health authorities on the outbreak of COVID-19. To protect the health and safety of speakers and attendees, NIST has decided to postpone the event. For more information on COVID-19, please visit coronavirus.gov.
The 2020 joint conference on International Scanning Probe Microscopy (ISPM) and Scanning Probe Microscopy on Soft and Polymeric Materials (SPMonSPM) aims to unite a broad cross-section of scanning probe microscopy (SPM) researchers from around the world. The conference represents a merger of the 22nd hosting of ISPM and the 5th hosting of SPM on SPM.  The conference will bring together users ranging from biology, polymer science, energy, computing and beyond, linked by a common interest in the role of SPM to elucidate new physical and chemical phenomena. Junior and senior researchers from industry, academia and government institutions will present their latest developments. The environment will foster new ideas and collaborations across multiple disciplines. The format will include distinguished plenary talks, invited talks, contributed talks, posters and an exhibit.
Plenary speakers: Ricardo Garcia, Sergei Kalinin and Simon Scheuring
Confirmed invited speakers and workshop lecturers (more to come):
Sonia Contera, Igor Sokolov, Ken Nakajima , Philippe Leclere, Callie Higgins, Takeshi Fukuma, Georg Fantner, Gabriel Gomilla, Roger Proksch, Bede Pittenger, Rama K Vasudevan, Loren Picco, David Haviland, Adam Foster, Markus Raschke, Shuai Zhang, Robert Wolkow, Hermann Gaub, Peter Hinterdorfer
Abstract submissions
The organizers welcome the submission of technical abstracts for oral or poster presentations at the 2020 i(SPM)3. Please use the attached template to prepare your 1 page abstracts: 
Abstracts should be submitted by email using the below link. Please complete all fields indicated in the email link. 
Abstracts due on Jan 24th Mar 2nd
Submissions covering all forms of SPM techniques, instrumentation and application are welcome. Specific target areas include, but are not limited to:
SPM in Biology and Medicine 

SPM on Polymers 

Nanomechanics

Multi-frequency AFM 

Advances in Solid-Liquid Interface Imaging 

STM and UHV AFM

Ultra high resolution SPM

SPM in Extreme Environments

SPM for Quantum Materials

SPM for Energy Applications

Electromechanical Sensing 

Electrochemical Sensing (Force and Current Based)

SPM for Solar Materials

High Speed AFM

Correlative/Combined Imaging

Chemical Imaging

Machine learning and AI in SPM
If you have trouble launching the auto-populated email submission link above, please send an email to jason.killgore@nist.gov with Subject: ISPM2020AbstractSubmission
With the following fields complete:
Presenter First Name:
Last Name:
Affiliation:
Contact email address:
Abstract title:
Poster preferred yes/no? (default is Oral preferred)
Interested in submitting a full article for a special issue of Ultramicroscopy? Yes/no?