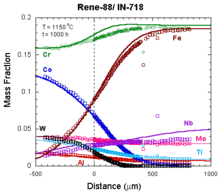 NIST Diffusion Workshop Group
The next workshop is planned for June 14-16, 2022.  The workshop will honor John Agren and pay tribute to John Morral.   POSTPONE until 2023.
For more information, please contact carelyn.campbell [at] nist.gov (Carelyn Campbell).
Goals
To improve communication between experts in multicomponent diffusion measurement, analysis and simulation.
To establish the most efficient method for extracting diffusion data (diffusion coefficients, fluxes, marker location) from multicomponent diffusion couple experiments.
To provide a forum to solve common diffusion software execution problems.
To agree on a common diffusion mobility database assessment procedure.
To establish a general approach to data handling and diffusion modeling in ordered phases.
To develop standard problems and web site for inter-laboratory comparison of diffusion simulation methods and data extraction techniques.
Workshop Schedules
Software and Data Tools
Macros for Standard Diffusion Problems
Ni/René-88 and René-88/IN718 Diffusion couple data reported in J. Phase Equilibria & Diffusion 25 (2004) 6-15.
Upcoming Diffusion Conferences