On January 25, 2021 The White House announced Executive Order (EO) 14005, called Executive Order on Ensuring the Future is Made in All of America by All American Workers. EO 14005 establishes a substantial role for the MEP National NetworkTM in the Biden Administration's plans to bolster American manufacturing.
You can read the full text of EO 14005 on Ensuring the Future Is Made in All of America by All of America's Workers.
Sec. 7. Supplier Scouting. To the extent appropriate and consistent with applicable law, agencies shall partner with the Hollings Manufacturing Extension Partnership (MEP), discussed in the Manufacturing Extension Partnership Improvement Act (title V of Public Law 114-329), to conduct supplier scouting in order to identify American companies, including small- and medium-sized companies, that are able to produce goods, products, and materials in the United States that meet Federal procurement needs.
Excerpted from EO 14005, Section 7
The mission of the MEP National NetworkTM is to strengthen and empower U.S manufacturers.
About MEP
The MEP National Network equips U.S. manufacturers with the tools and resources necessary to be competitive in today's rapidly changing marketplace. Our industry experts work side-by-side with manufacturers to reduce costs, improve efficiencies, develop the next generation workforce, create new products, find new markets and much more. Together, they strengthen communities and U.S. manufacturing.
The Hollings Manufacturing Extension Partnership (MEP) is based at the National Institute of Standards and Technology (NIST). The national Program Office (NIST MEP) which provides the federal government funding for the MEP National Network™ is located in Gaithersburg, MD. The MEP National Network comprises the National Institute of Standards and Technology's Manufacturing Extension Partnership (NIST MEP), the 51 MEP Centers located in all 50 states and Puerto Rico, the MEP Advisory Board, MEP Center boards, and the Foundation for Manufacturing Excellence, as well as over 1,400 trusted advisors and experts at approximately 450 MEP service locations, providing any U.S. manufacturer with access to resources they need to succeed.
MEP National Network (MEPNN) Services
The MEP National Network (MEPNN) offers a suite of services to respond to the important guidance that EO 14005 provides including:
Supply Chain Optimization and Intelligence Network
Effective supply chains are critical to manufacturing operations. The MEP National Network Supply Chain Optimization and Intelligence Network (SCOIN) focuses on assessing and analyzing domestic manufacturing capabilities, expanding knowledge of state and local manufacturing ecosystems, and building an integrated U.S. supplier network.
Our supply chain experts from 51 MEP Centers can help with supply chain challenges including supply chain mapping, assessments, implementation, risk management, new market penetration, and supplier scouting. These services can help U.S. small and medium-sized manufacturers enhance supply chain interactions and vertically integrate with the U.S. Original Equipment Manufacturers (OEMs), tier 1+ suppliers, and other stakeholders, including federal agencies enabling Build America Buy America Act.
Supplier Scouting
MEPNN Supplier Scouting leverages the MEP National Network's extensive relationships and knowledge of U.S. manufacturing capabilities to identify manufacturers across the U.S. that can meet supply chain needs of commercial entities and government agencies. To engage with the Network's Supplier Scouting service, a company or government agency needs to have a clear and concise description of the needed item to include technical (tolerances, dimensions, certification requirements) and business case (volume, target price, shipping location) information. An opportunity synopsis form has been developed to assist with gathering and submit this information.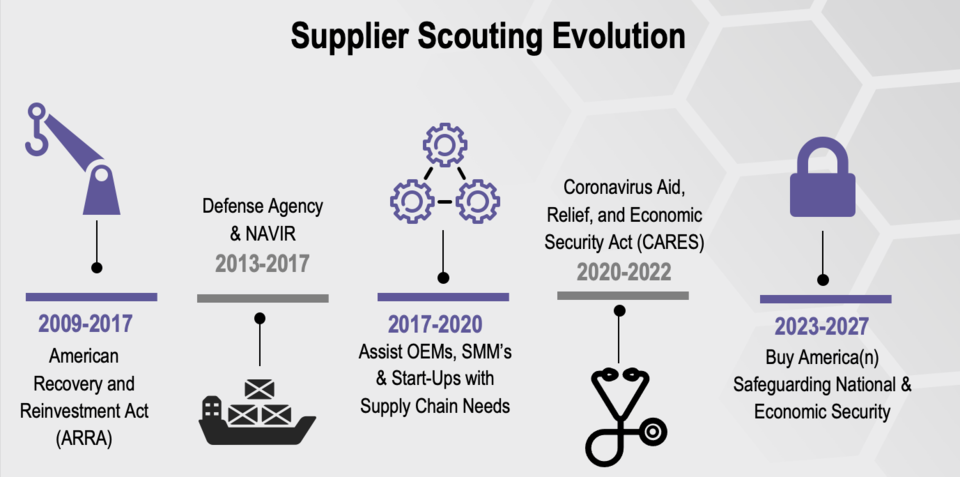 For over a decade, MEPNN Supplier Scouting has been identifying and connecting U.S. manufacturers with government and commercial supply chain needs. MEPNN Supplier Scouting ensures our national health and safety, strengthens domestic supply chains, and develops resiliency for small and medium manufacturers. MEPNN Supplier Scouting can be applied on a national, regional, or local scale. By leveraging extensive relationships and knowledge of U.S. manufacturing capabilities, the MEPNN is able to identify manufacturers who meet production and technical requirements and connect them with larger and more diverse supply chains and government agencies. Submit a Supplier Scouting Opportunity Synopsis form or contact your local MEP Center to begin searching for domestic suppliers.
Learn more about Supply Chain services and Supplier Scouting services.
For more information on Supplier Scouting, please contact NIST MEP's Supplier Scouting team at scouting [at] nist.gov or 301-975-5020.
If you have any questions on anything relating to the Executive Order, please submit a question in the form below.