This topic is for discussions of security-related issues associated with the Ballot Marking Use Case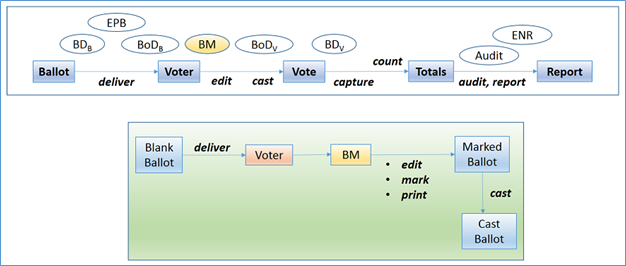 Security Considerations
Information Types:
Ballot styles
Voters' ballot selections
Possible activation or voter log-in information
Security Objectives and Impact Levels
Confidentiality: Moderate
Integrity: Moderate
Availability: Moderate
Notes:
Scenarios:

Marking by-hand
Marking electronically at polling place
Pre-voting at home, casting at polling place
Online/Remote ballot marking

Major Risks and Objectives

Ensuring accuracy of marked ballots

Tension between voter-verification and accessibility

Protecting the privacy/secrecy of voters' selections

For Electronically-assisted ballot marker (EBMs), must be mindful of what is recorded on activation devices and EBMs
For remote marking, must be mindful of what is recorded by, or transmited to, the server

There may be interest in using personal devices and personal assistive technologies (PATs) in the marking process

There are unique security concerns over attaching personal devices to voting machines
VVSG Security Gap Analysis
Applicability of the VVSG 1.1 and/or draft VVSG 2.0
VVSG 1.1: Polling place marking in-scope
VVSG 2.0: Polling place marking in-scope
*Note:* VVSG 1.1 and the draft VVSG 2.0 include explicit requirements for Electronic Ballot Marking devices.
Estimated Level-of-Effort to Address
Polling Place Markers: Minimal. Mostly general updates based on changes in technology.
Remote Marking: Significant effort required to address Internet security threats.
Gap Areas
Technology-specific areas that may be applicable to ballot marking

Use of wireless networking in polling places
Use of COTS (Commercial Off-The-Shelf) hardware and software on markers and printers

Need to identify use cases for personal devices and PATs
Related Resources
---
Voting TWiki Archive (2015-2020): read-only, archived wiki site, National Institute of Standards and Technology (NIST)
---
ARCHIVE SITE DESCRIPTION AND DISCLAIMER
This page, and related pages, represent archived materials (pages, documents, links, and content) that were produced and/or provided by members of public working groups engaged in collaborative activities to support the development of the Voluntary Voting System Guidelines (VVSG) 2.0. These TWiki activities began in 2015 and continued until early 2020. During that time period, this content was hosted on a Voting TWiki site. That TWiki site was decommissioned in 2020 due to technology migration needs. The TWiki activities that generated this content ceased to operate actively through the TWiki at the time the draft VVSG 2.0 was released, in February of 2020. The historical pages and documents produced there have been archived now in read-only, static form.
The archived materials of this TWiki (including pages, documents, links, content) are provided for historical purposes only.
They are not actively maintained.
They are provided "as is" as a public service.
They represent the "work in progress" efforts of a community of volunteer members of public working groups collaborating from late 2015 to February of 2020.
These archived materials do not necessarily represent official or peer-reviewed NIST documents nor do they necessarily represent official views or statements of NIST.
Unless otherwise stated these materials should be treated as historical, pre-decisional, artifacts of public working group activities only.
NIST MAKES NO WARRANTY OF ANY KIND, EXPRESS, IMPLIED OR STATUTORY, INCLUDING, WITHOUT LIMITATION, THE IMPLIED WARRANTY OF MERCHANTABILITY, FITNESS FOR A PARTICULAR PURPOSE, NON-INFRINGEMENT AND DATA ACCURACY.
NIST does not warrant or make any representations regarding the correctness, accuracy, reliability or usefulness of the archived materials.
---
ARCHIVED VOTING TWIKI SITE MATERIALS
This wiki was a collaborative website. NIST does not necessarily endorse the views expressed, or concur with the facts presented on these archived TWiki materials. Further, NIST does not endorse any commercial products that may be mentioned in these materials. Archived material on this TWiki site is made available to interested parties for informational and research purposes. Materials were contributed by Participants with the understanding that all contributed material would be publicly available.  Contributions were made by Participants with the understanding that that no copyright or patent right shall be deemed to have been waived by such contribution or disclosure. Any data or information provided is for illustrative purposes only, and does not imply a validation of results by NIST. By selecting external links, users of these materials will be leaving NIST webspace. Links to other websites were provided because they may have information that would be of interest to readers of this TWiki. No inferences should be drawn on account of other sites being referenced, or not referenced, from this page or these materials. There may be other websites or references that are more appropriate for a particular reader's purpose.