NIST Response to:
Executive Order on Promoting Access to Voting, Section 7:
Ensuring Equal Access for Voters with Disabilities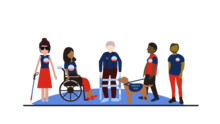 NIST Special Publication 1273
On March 24, 2022, in response to Executive Order 14019, NIST released Special Publication 1273:  
Promoting Access to Voting: Recommendations for Addressing Barriers to Private and Independent Voting for People with Disabilities
This report examines barriers across the voting process for people with disabilities. It offers recommendations for state and local election officials, the federal government, and other non-governmental organizations to eliminate or mitigate those barriers.
How did NIST produce this report?
NIST has a decades-long history of addressing the accessibility and usability of voting systems and processes based on human factors technical research and collaborations with subject matter experts, as part of the NIST Voting Program. Drawing on this expertise and using its robust stakeholder engagement processes, NIST produced this NIST Special Publication in response to its responsibilities described in Section 7 of the EO.
In addition to analysis of relevant, published material, NIST sought information, insight, and opinion from stakeholders. These stakeholders included advocacy groups, election officials, federal agencies, developers of voting equipment, researchers, and voters experiencing difficulties voting in a private and independent manner.
Specifically, NIST relied on three activities:
NIST used public responses to a Request for Information (RFI) posted in the Federal Register to better understand the challenges voters with disabilities encounter in all aspects of the voting process, and suggested recommendations to remove the barriers. Most responses were from individual voters with disabilities detailing challenges that limited their ability to vote privately and independently, and in some cases, inhibited voting altogether. Readers are encouraged to review these RFI responses at https://www.regulations.gov/search/comment?filter=2021-12619 to understand the challenges expressed by these voters.
NIST engaged with disability voting rights advocates, voting and election stakeholders, and federal agencies to better understand the range of difficulties voters with disabilities experience. These discussions included the entire voting experience including accessing voter information, registering to vote, proving their identity, marking a ballot, casting a vote, and accessing a polling place – aspects of voting that many people take for granted.
NIST posted a Request for Comments on a draft report in the Federal Register and used the comments received to create the final report. NIST received 387 comments from 64 different respondents. Comments came from disability advocacy groups, other organizations (e.g., vendors, policy groups), a local government organization, and individuals with interest and experience with disabilities, voting, and security. These comments are located at https://www.regulations.gov/search/comment?filter=2021-22757.