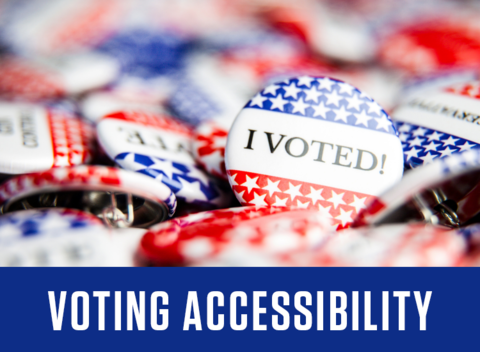 To help improve access to voting, the National Institute of Standards and Technology (NIST) has finalized its publication outlining barriers that limit the ability of people with disabilities to vote privately and independently — as well as recommending approaches for addressing them.
The publication, titled Promoting Access to Voting: Recommendations for Addressing Barriers to Private and Independent Voting for People with Disabilities (NIST Special Publication 1273), constitutes NIST's response to the March 7, 2021, Executive Order (EO) 14019 on Promoting Access to Voting. NIST developed the report following an initial request for information and a subsequent request for comments on the draft version, both of which drew many responses from the public.
"We received 387 relevant comments from 64 different respondents to the draft," said Kerrianne Buchanan, a NIST social scientist and one of the report's authors. "It was a diverse group ranging from disability advocacy groups to voting technology vendors. We also heard from about 20 individuals who shared their experiences with the voting process."
Buchanan said that the comments served primarily to clarify and expand on points the draft version had included. 
"We made no major changes to the overall structure of the document as a result of the comments," Buchanan said. "No one indicated we had overlooked any key barriers. The public input was very thoughtful and helpful to us in creating a final report that refined our terminology and emphasized how certain barriers might apply to specific groups of voters. It affirmed our development process."
One of the core assertions the NIST authors encountered during the publication's development was that many barriers exist for voters across a wide range of disabilities. The publication identifies about two dozen specific barriers, ranging from limitations of current voting technology in prioritizing accessibility to lack of effective training for poll workers regarding the needs of voters with disabilities.
"To really promote access to voting, all stakeholders should be at the table together to enact many of the recommendations." —Kerrianne Buchanan, NIST social scientist 
As with the draft, the final version is organized into sections that present different classes of barriers followed by potential means of addressing them. Section 2 concerns several systemic barriers that people with disabilities may encounter across the voting process. Sections 3 to 7 each focus on a specific part of the voting process mentioned by name in Section 7 of the EO. These include voter registration and the National Mail Voter Registration Form; voting by mail; use of voting technology for in-person voting; voting at polling locations; and training and documentation for poll workers. 
Readers may be interested in the newly added introductory Executive Summary as well as Appendix IV, which condenses all the barriers and recommendations into three pages, making it easier to find more details on a given topic in the main text.
The publication also makes recommendations for how to address the issues it raises. Section 2 offers specific actions that state and local election officials can take, including establishing formal partnerships with the disability community and providing information through a variety of channels and accessible formats. 
"We also acknowledge that to really promote access to voting, all stakeholders should be at the table together to enact many of the recommendations," Buchanan said. "We make recommendations where multidisciplinary research teams can improve voting technology to prioritize accessibility." 
The finalized document is available here.