Title of Talk: COMPUTATIONAL SCIENCE IN A FEDERAL LABORATORY
ABSTRACT:
What is it like for a mathematician to work in a research lab in the federal government? My agency, the National Institute of Standards and Technology, part of the U.S. Department of Commerce, is the national metrology institute for the U.S. Its mission is to advance the science of measurement in support of both commerce and industrial innovation. This work is quite varied, from helping to define the standard SI units (e.g., the second, meter, kilogram, etc.) to setting federal standards for cryptography. In this talk I will describe the work of NIST and provide examples of how mathematicians and computational scientists contribute to that mission. In doing so I will provide a glimpse of what such staff members do each day, and what background and training is needed to work there. And along the way you'll learn why NIST sells peanut butter, dust, and urine. 
Keywords: applied mathematics, computational science, research careers  
---
BIO: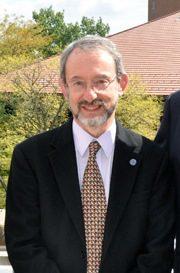 Ron Boisvert leads the Applied and Computational Mathematics Division of the Information Technology Laboratory at the National Institute of Standards and Technology (NIST). He received a B.S. in mathematics from Keene State College (NH, 1973), an M.S. in applied science from the College of William and Mary (Virginia, 1975), and a Ph.D. in computer science from Purdue University (Indiana, 1979). He has been at NIST since then. Author of more than 80 publications, including six edited books, his research interests include computational science, mathematical software and information services that support computational science. He is a Fellow of the Washington Academy of Sciences, the American Association for the Advancement of Science (AAAS), and the Association for Computing Machinery (ACM). See https://www.nist.gov/people/ronald-f-boisvert 
itl-speakers-bureau [at] nist.gov (subject: Speaker%20Request%20for%20Ronald%20Bosivert) (Email Speaker Request)class="usa-button"