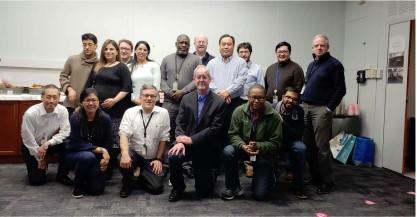 NIST

Smart

Grid

Testbed

Uses
Using the Testbed, NIST researchers address the measurement needs of the evolving smart grid industrial community by measuring and characterizing key smart grid components, standards, and protocols.
NIST is a leader in contributing technical expertise to standards development and test protocol evaluation, with meaningful and measurable requirements, as they relate to smart grid interoperability. NIST research in the Testbed helps to further the understanding of distribution system dynamics to the grid edge and translates that to observable requirements.
Measuring

and

Characterizing

Smart

Grid

Components
The NIST Smart Grid Testbed researchers have measured and characterized the dynamic performance of devices such as Phasor Measurement Units (PMU), merging units (MU), and others. The results have provided manufacturers with a measurement of their conformance to the device's standard and improvement to the standard when ambiguities in the requirements were observed. The work on PMU had led to a revision of the standard, based on NIST's inputs.
Support

Testing

and

Certification

of

Standards
The NIST Smart Grid Testbed researchers have developed testing requirements and test tools for standards to accelerate the development of a testing and certification program for smart grid standards. NIST researchers developed the test plan for PMU that served as the basis for the third-party testing program that is being administered by industry.
NIST has provided expert technical input to the development of standards, related to distributed energy resources, including: