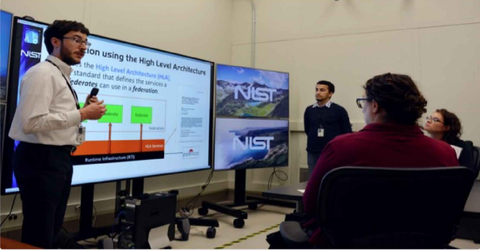 Capabilities
NIST's Smart Grid Testbed emulates the performance of selected portions of the smart grid and its devices in a laboratory environment to support advanced measurement science research. Examples of Testbed-enabled measurements include the following:
Measuring

System

Outputs
The Testbed enables exploration of the interactions of smart grid devices, such as smart meters or inverters, with other equipment on the electric grid, to measure their outputs and assess interoperability among devices and across systems. The Testbed can also emulate the physical characteristics of the grid, including grid voltage properties and associated harmonics, for measuring smart device functions and system interactions.
Measuring

System Processes
Collectively, the Testbed measurement capabilities enable NIST researchers to analyze power systems with varying composition, including distributed energy resources such as solar power or energy storage systems, electric vehicle charging stations, and building-integrated or customer-controlled demand response. This research includes analyzing harmonics, voltage drop, and other power quality issues and their effects on the function of grid connected devices. The Testbed can also be used to analyze distribution level strategies such as electric vehicle charging management, transactive energy concepts, and other load management approaches that address an increasingly dynamic grid environment.