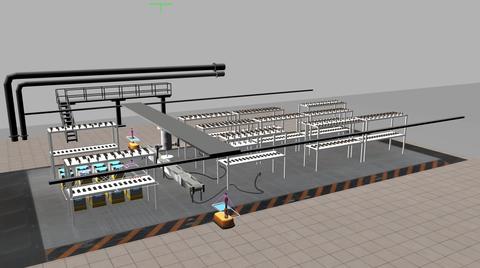 Latest Updates
The environment for ARIAC 2020 is being released today!  Please go find more info at https://github.com/usnistgov/ARIAC
---
ARIAC 2020 is ramping up now!  Check back here for more information in the coming weeks as the details are confirmed.
Register here to get updates as soon as they're available!
We are planning on this being a prize competition as it has been in the previous years, so there will likely again be $17,500 in prize money spread among the top 3 finishers.
Preliminary Schedule
Qualifier to be held in April 2020
Finals to be held in May 2020
Check back here soon for more details!
---
ARIAC 2019 was a great success!  Thank you very much to everyone who was involved in making it successful! Congratulations to the winners:
Team Sirius (1st Place, $10,000 prize)
Team RuBot (2nd Place, $5,000 prize)
Team PackSwiftly (3rd Place, $2,500 prize)
Stay tuned for further information to be announced about next year's competition and our Wrap-Up workshop coming in Late 2019 / Early 2020.
This year's competition scenario was based on the setup of ARIAC 2017 with one small caveat.  ARIAC 2019 had 2 robots for the first time in ARIAC's history.  These two robots were on a single rail.  The competition was run this year using Ubuntu Bionic, ROS Melodic, and Gazebo version 9.
---
---
$17,500 of prize money is now available to the top 3 finishers in the 2019 ARIAC competition
Competition Overview
Due to the tremendous success of the first two years of the Agile Robotics for Industrial Automation Competition (ARIAC), NIST and Open Robotics are happy to announce that ARIAC will be held again in 2019. The Qualifier is expected to begin in the April 2019 timeframe while the final competition is expected to be held in May 2019.
ARIAC is a simulation-based competition designed to promote agility in industrial robot systems by utilizing the latest advances in artificial intelligence and robot planning. The goal is to enable industrial robots on the shop floors to be more productive, more autonomous, and more responsive to the needs of shop floor workers. Because the competition will be held virtually, there is no need to travel to compete. The competition will use the Gazebo simulation tool.
Year 1 of the competition focused on pick-and-place kit assembly operations. Year 2 focused on order fulfillment with a greater emphasis on perception. Year 3 returns to the kits of Year 1, but with the addition of a second robot on the rail.
While autonomously completing order fulfillment tasks, teams will be presented with various agility challenges based on input from industry representatives. In Year 1 & 2, these challenges included failing suction grippers, notification of faulty parts, and reception of high-priority orders that would prompt teams to decide whether or not to reuse existing in-progress orders. Year 3 will include these challenges along with others.
Winners this year will be determined through automated metrics as well as a panel of three judges comprised of representatives from Amazon, Open Robotics, and NIST. We are in the final stages of making this a prize competition, with first place receiving $10K, second place receiving $5K and third place receiving $2.5K. There will also be travel support for a representative from the winning teams to present at an upcoming workshop.
For more details please go to: https://bitbucket.org/osrf/ariac/wiki/2019/Home.md
---