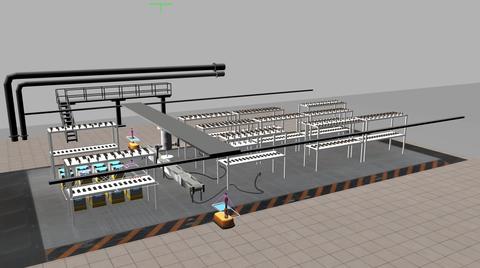 Latest Updates
22 September 2020
ARIAC 2021 is coming! We are planning on this year being a prize competition again with similar prizes as previous years. More details to come as they are finalized.
Here is a rough timeline of what things are coming up! (Dates are approximate and subject to change as circumstances change)
20 November 2020 - Announcement of the Planned Challenges for ARIAC 2021
Late Jan/Early Feb 2021 - Launch Telecon with NIST ARIAC Developers and Potential Competitors
Early February 2021 - Further Details of the Challenges released to Potential Competitors
22-26 March 2021 - Smoke Test Week before Qualifier Round
26-30 April 2021 - Qualifier Round
17-21 May 2021 - Smoke Test before Final Round
24-28 May 2021 - Final Round
Also, for those interested in publishing their work for past ARIAC submissions, the Elsevier Robotics & Computer-Integrated Manufacturing Journal Special Issue on Agile Robotics for Industrial Applications article submission deadline has been extended to November 1, 2020. 
The Call for Papers can be found at: https://www.journals.elsevier.com/robotics-and-computer-integrated-manufacturing/call-for-papers/special-issue-on-agile-robotics-for-industrial-applications
The Submission Website can be found it: https://www.editorialmanager.com/rcim/default.aspx (please select VSI:Agile Industrial Robotics for the "Article Type" step in the submission process)
Good luck and watch this site for more news upcoming for ARIAC 2021!
---
09 July 2020
Thank you to everyone who was able to attend and make the ARIAC Workshop a great success! The ARIAC Team got a lot of good feedback and ideas for the future of the competition. Over the next couple of months, we will be going through these ideas and coming up with the plans for next year's competition. Make sure to come back here in September to see what is in store for ARIAC 2021 or email ariac@nist.gov to make sure that you receive an email about our plans!
---
02 July 2020
The ARIAC Team will be holding a workshop for the ARIAC 2020 Competition and to discuss the future of ARIAC on Monday 06 July 2020. More details can be found at the Workshop Link to the left or at https://www.nist.gov/el/intelligent-systems-division-73500/agile-robotics-industrial-automation-competition/workshop
---
01 June 2020
We are happy to announce the results of the 2020 ARIAC Competition:
Team Virsli, Laszlo Bojtos, Attila Vidacs, Jozsef Peto, Gergely Matyas, Budapest University of Technology and Economics (BME VIK TMIT), HSN Lab, Cloud Robotics Group (1st Place, $10,000 prize)
Team Sirius, (2nd Place, $5,000 prize)
Team RuBot, ARCL, Rutgers University (3rd Place, $2,500 prize)
Team PackSwiftly, Steven Gray (4th Place)
Team irgum, Andras Polgar (5th Place)
The scoring was performed based on a combination of performance, efficiency and cost metrics across the trials, in addition to the results from a panel of three Judges.
Congratulations to all the participating teams on their innovative solutions to the problems posed by the ARIAC 2020 Competition.
---
23 April 2020
The deadline for submission of your code for the qualifiers is this Friday, April 24 at 11:59 pm Pacific Time.
Make sure to visit the news page on the github for the latest details about the code and competition details. 
https://github.com/usnistgov/ARIAC/blob/master/wiki/misc/updates.md
---
20 March 2020
Make sure to visit the news page on the github for the latest details about the code and competition details. 
https://github.com/usnistgov/ARIAC/blob/master/wiki/misc/updates.md
---
03 March 2020
The environment for ARIAC 2020 is being released today!  Please go find more info at https://github.com/usnistgov/ARIAC
---
04 February 2020
ARIAC 2020 is ramping up now!  Check back here for more information in the coming weeks as the details are confirmed.
Register here to get updates as soon as they're available!
We are planning on this being a prize competition as it has been in the previous years, so there will likely again be $17,500 in prize money spread among the top 3 finishers.
Dates of the Competition:
Qualifier Begins: April 6, 2020
Qualifier Ends: April 10, 2020
Competition Testing Period Begins: May 11, 2020
Competition Testing Period Ends: 5:00 PM, EDT (UTC-05:00), May 22, 2020
Check back here soon for more details!
---