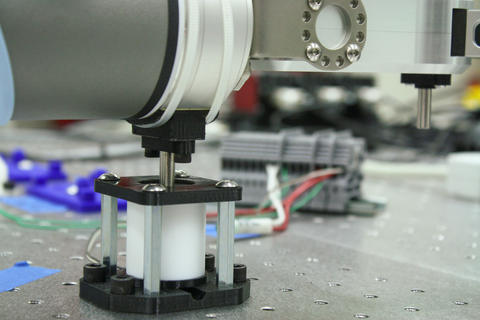 Position Verification Sensor with Discrete Output (PVS)
Description: A low-cost, minimal footprint sensor that provides pass/fail output of key insertion within a specifically-sized keyway; The sensor is designed in a modular fashion such that the change in accuracy of the key insertion can measured to desired tolerances.
Technology developed in support of the Identification and Isolation of Robot Workcell Accuracy Degradation test method.
Challenge: It can be costly to determine if the health of a robot workcell has degraded BEFORE quality and/or productivity is impacted. 
Solution/Resulting Product: A low-cost, minimally invasive method to efficiently assess the change in accuracy at various points along the kinematic chain (e.g., robot arm, gripper) with respect to the workspace
Download the Published Non-Provisional Patent Application
Technical Contact: brian.weiss [at] nist.gov (Brian Weiss)
Dynamic High Accuracy 6-D Measurement System with a Vision Agnostic Non-blocking Smart Target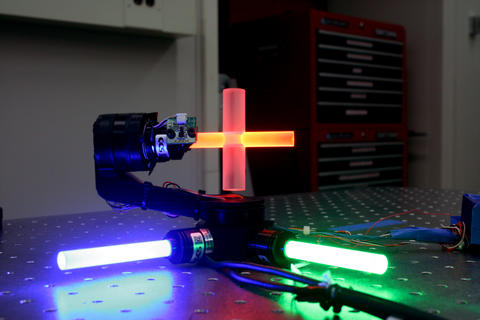 Description: A smart target that integrates with a vision system to acquire high-accuracy, real-time 6-D information at high speed 
Technology developed in support of the Robot Accuracy Degradation Assessment test method. 
Challenge: Robot accuracy degradation can negatively impact operations and is relatively difficult to be detect unless compromised part quality, obvious failure, or stop occurs.
Solution/Resulting Product: A robot health assessment method to assess a robot's tool center accuracy degradation in as little as 10 minutes  
Download the Published Non-Provisional Patent Application
Technical Contact: guixiu.qiao [at] nist.gov (Helen Qiao)
Inertial Measurement Unit (IMU) for Smart Machine Tools
Description: A precision inertial measurement unit (IMU) that provides knowledge of changing linear axis performance to maintain quality of parts produced by machine tools and prevent unplanned downtime
Challenge: Machine tools are vital for production, but wear causes unknown performance changes and unplanned downtime, so manufacturers asked if they could have "machine health in 5 min?"
Solution/Resulting Product: An IMU-based method for near real-time and on-machine (no setup time!) measurement science to diagnose machine tool performance & root causes of faults
Download the Published Non-Provisional Patent Application
Technical Contact: gregory.vogl [at] nist.gov (Greg Vogl)