AREAS OF EXPERTISE
CTL's Wireless Networks Division specializes in two areas of wireless technology research and analysis:
   • Communications networks and protocols, which involves data transport, routing, resource management and medium access control.   
   • Digital communications, which looks at the essential technologies enabling communications networks, including signal processing, modulation, error control coding and channel modeling. Across both of these competence areas, we bring our capabilities in performance measurements, model development, experimental testbeds and network prototyping to bear.
PERFORMANCE MEASUREMENTS
The goal of our performance-measurement work is to provide insights into key factors that affect the performance, reliability and resiliency of advanced communication networks. We define common performance metrics and modeling approaches and use commercially available and in-house customized network modeling and simulation tools as well as experimental testbeds to compare different network scenarios and deployments. Among the measurement we take:
   • Throughput, delay and loss associated with network protocols.
   • Delay, loss, collisions and retransmissions associated with medium access control.
   • Signal-to-noise ratio and block error rate associated with digital transceivers and links.
   • Detection reliability and delay associated with spectrum sensing and monitoring systems.
   • Fading, shadowing and noise associated with radio-frequency channels.
   • Distance and link margin needed for a given link budget.
CHANNEL MODEL DEVELOPMENT
Accurately characterizing the environments in which future wireless hardware and protocols will operate is a vital precursor to wireless network modeling and protocol development. Such modeling ultimately helps industry identify potential cost-savings and sets realistic expectations for network coverage, capacity, scalability and performance.

Our channel modeling work employs existing and custom models applying mathematical analysis and computer simulation to factors affecting radio-frequency propagation such as terrain, clutter, building morphologies, antenna height and center frequencies. We work with CTL's RF Technology Division in developing and enhancing a millimeter-wave channel sounder capable of completely characterizing channels operating at the high frequencies expected to be used in 5G & Beyond systems. Our channel modeling experts then use these measurements as inputs for their models.
EXPERIMENTAL TESTBEDS
While much of our work involves mathematical modeling and computer simulation, our experimental testbeds help us validate our models, develop benchmarks and take physical measurements of wireless systems and their key components. We start with commercial broadband devices (e.g., LTE base station and user equipment), protocol analyzers and emulators, which provide a highly controlled, non-radiating environment to characterize how high-speed wireless devices transmitting over multiple channels in different environments might interact. But when our requirements push past the boundaries of what's commercially available, we develop our own solutions, such as our real-time spectrum monitoring system using software-defined radios.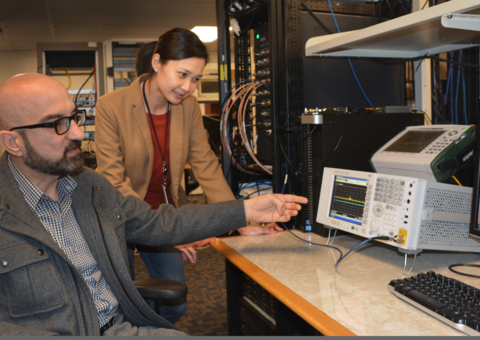 2021 SUMMER UNDERGRADUATE RESEARCH FELLOWSHIP (SURF) PROJECTS
673.1 Qt-based GUI for ns-3
The Wireless Networks Division is developing a simulation platform to model next-generation wireless networks for public safety communication. To complement our platform we have been developing Graphical User Interface (GUI) tools to visualize the network topology and the data collected during our simulations. This summer, you will develop new capabilities for the Graphical User Interface (GUI) based on Qt (www.qt.io), an open-source widget toolkit for creating graphical user interfaces. Your work will include the following: the development of the Qt interface, OpenGL rendering components, development of statistical models, and/or the creation of 3D models.
673.2: An RF Firewall to Protect 5G Edge Security
Fifth-generation, or 5G, wireless technology will be a significant investment and upgrade to current 4G network capabilities.  For consumer devices like smartphones and laptops, the improved infrastructure means higher bandwidth for streaming videos and transferring data files.  With 4G technology, the network's 'core' was a centralized hub of computing power that could sort and process all the data carried by the network while the 'edge' was made up of base stations: the cell towers and antennas that devices use to connect to the network.  If the core was protected, the data was protected too, and the network's integrity was maintained.  In 4G networks, the edge was mostly separate from the core's data processing functions and left relatively unprotected.  However, 5G technology is very different.  In 5G networks, significant processing power has been moved from the core closer to the edge.  Allocating increased processing power across all parts of the network is one of the reasons why 5G networks will be faster and it also enables new technologies such as autonomous vehicles and telemedicine that have profound safety implications.  The re-distribution of computing power in 5G networks means there is no longer a clear edge to the network; the entire network must be protected, and the edge must be as secure as the core. A major potential threat to the 5G edge is hostile emitters, which are devices that cause interference that prevents users from connecting to the network or that gain unauthorized access to the network to do damage.  In this project, you will work to identify the security vulnerabilities at the edge of the 5G network and analyze techniques to protect against hostile emitters before their transmitted Radio Frequency (RF) signals enter the data processing chain.  For example, you will explore methods to leverage precise channel sounding knowledge of the RF environment around a base station to identify, locate, and place antenna pattern nulls on hostile emitters.
SELECTED PUBLICATIONS
3.5 GHz Environmental Sensing Capability Detection
Thresholds and Deployment Modeling a Nationwide Public Safety Broadband Network
Radio Channel Sounders for Modeling Mobile Communications at 28 GHz, 60 GHz and 83 GHz

 
PROJECTS
Public Safety Communications
Citizens Broadband Radio Service
Channel Modeling
Radio-resource Allocation and Beamforming Algorithms