Some Baldrige community members may remember the travel photos from Baldrige examiners we shared years ago via newsletter with the caption, "Where in the World Are the Criteria?"
A serious purpose behind those lively photos of the globe-trotting Baldrige Excellence Framework booklets (which include the Criteria for Performance Excellence) was to illustrate that the Baldrige framework is relevant and beneficial to organizations anywhere. Of course, the photo captions also gave the Baldrige Program an opportunity to highlight members of the all-volunteer board of examiners—without whose hard work the rigorous applicant evaluations for the annual Baldrige Award would not be possible.
With site visits completed—and the 2017 Baldrige Award recipients to be named in mid-November after the Judges' Panel meets next week—we are launching a series of interviews to highlight the contributions of Baldrige examiners. Not only do these annually selected and trained volunteers help identify national role models through their award process evaluations, but they also act as ambassadors for the Baldrige Program, helping organizations of all sizes, sectors, and settings learn how they can improve and excel using the Baldrige framework.
As an introduction to the first interviewee, please take a look at the photos in this blog and guess where in the world is this Baldrige examiner (with her Baldrige framework booklet)?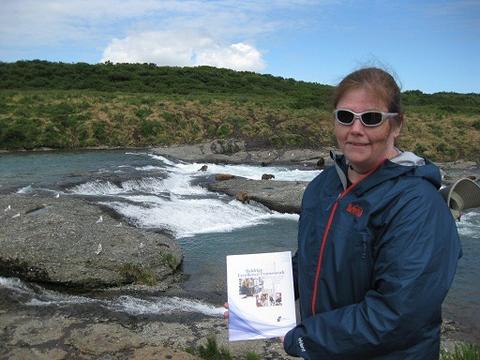 Do you have any idea yet where those bears—and the bold Baldrige examiner and her booklet—are? 
You can find out the answer by reading the following interview of alumna examiner Dr. Maureen Washburn, who is featured in the photos.
1. Maureen, would you please share how you first became interested in becoming a Baldrige examiner?
In the '90s, I was heavily involved in the local implementation of the Veterans Health Administration's (VHA) Total Quality Improvement Program (TQI). I was a facility master trainer responsible for all facets of the program from training on the quality tools to facilitating PI (process improvement) teams.
The day I went home and told my spouse we needed a family mission statement, he knew I had found my tribe. In 2003, I was introduced to the Baldrige Criteria when I was invited (because of my involvement with the TQI Program) to participate in the VHA Quality Excellence Awards Programs that year. I went on to become involved in the national Baldrige program and two state Baldrige-based award programs (TX and KY).
2. What were your impressions and highlights of your first training (the Examiner Preparation Course)? What have been highlights for you of annual examiner training in subsequent years?
By the time of my first national examiner training in 2007, I think I had four years of experience with the VHA program. Even at that point, I was not always confident in my abilities. The diversity of the group experience enhanced the assessment skills of all who participated. Everyone walked away able to make meaningful contributions to the award applicants. From that time forward, I have continued to learn more about systems (given the Baldrige framework's systems perspective) and continuous improvement.
3. Would you please share some memorable learning experiences you've had as an examiner on Consensus Review teams (the second phase of the annual Baldrige Award process)? 
I appreciate the lively yet civil discourse that frames examiners' discussions of an application. I continue to marvel at how those examiners with the least experience with reviewing applications often have the best insights. Consensus is key to the process.
4. Similarly, would you please share some memorable learning experiences you've had as an examiner on a site visit (the third and final phase of the award process)?
Site visits are inspiring. Site visits demonstrate that the process works. You get to see a culture of excellence in action. And, always, you bear witness to strong practices that you can apply to your own work environment.
5. How have you applied learning from your service as a Baldrige examiner to your work in an organization involved with a lot of health care systems and hospitals?
It was my Baldrige experience that brought me to my current employer, DNV GL Healthcare. Our NIAHO® (National Integrated Accreditation for Healthcare Organizations) accreditation process focuses on compliance with the Centers for Medicare and Medicaid Services (CMS) Conditions of Participation (CoP) as well as compliance with the ISO 9001:2015 requirements for a Quality Management System.
As you know, there is a significant alignment of the ISO 9000 series with the Baldrige Criteria for Performance Excellence. Many of our NIAHO® clients are on a Baldrige journey. NIAHO® allows you to leverage organizational accreditation beyond the minimum requirements of the CoPs and focus on exceeding minimum expectations through the development a leadership-driven culture focused on a systems approach to continuous improvement.
6. How do your colleagues/family/friends view your service as a Baldrige examiner?
It depends. If they have any experience with the various Baldrige-based excellence programs (state, national, international), they get it. If not, they wonder why one would spend hours of her summer (and fall knee deep in) doing the volunteer work of reading, writing, and participating in conference calls at all hours. My family has gotten used to it. They accept that it's how I give back. And they must admit that we accomplished that family mission statement I proposed so long ago:
The Washburn family exists for the nurture and support of the youngest Washburns so that they grow into competent, confident, caring adults who make a meaningful contribution to their communities.
7. Finally, would you please reveal the location depicted in your photos with the Baldrige framework booklet (and the bears)?
The photos were taken at Alaska's McNeil River State Game Sanctuary, which is celebrating its 50th anniversary this year. Given the Sanctuary's effective practices and results achieved—e.g., it now protects the world's largest known brown bear population and is recognized as the benchmark for entities seeking to develop their own bear-viewing programs—I realized it could be a fitting habitat for the Baldrige Excellence Framework. Pondering your questions again, I'd venture to say that the McNeil River Sanctuary was the "site visit" of a lifetime and is one more organization that shows that the core concepts of the Baldrige framework are applicable to any organization.  
Readers: Learn more about being a Baldrige examiner on our website and consider applying for the 2018 board; the online application opens November 27.
Experienced Baldrige examiners: Please let Christine Schaefer or Dawn Bailey know if you would like to share in a future blog your travel photos featuring a Baldrige framework booklet—and your learning and thoughts related to serving as a Baldrige examiner.