Last week was the final straw! It drove me to writing a blog posting. It took three sinks to wash my hands in a public restroom (fortunately, it had three sinks!). It required two to get the water flowing and a third to get soap. You know the cause of my frustration..... the automatic, sensor-driven water and soap dispensers. I am sure you have been there; you wave your hands, you move them in and out, you move them up and down, but still no water or soap. Once you achieve success, you chuckle as you watch someone at the next sink go through the same motions. Eventually, you might say to your fellow sufferer, I am done, this one works. 
Quality Principles
While all processes and products strive for 6 sigma performance, my biased estimate is that these devices operate at between one and two sigma, on initial attempt. That means somewhere between a 69% and 31% defect rate. Would you accept that from a product or service you were buying?
Yes, I know these faucets are sanitary and conserve water and that is very important, but so were the old foot pedal operated sinks. Of course those sinks are not ADA compliant and that is a real concern. So here is my simple, naive solution. How about placing multiple sensors in the sink/faucet, to improve the "catch" percentage? I came to this proposal by using the well-known quality tools for root cause analysis. I got there pretty quickly using "five whys":
Why am I frustrated...no water
Why is there no water... because the sensor is not detecting my hands
Why is the sensor not detecting my hand.... because different faucets function using different principles (I have done my research) and sensors are subject to failure

According to Jenesis International, faucets could require a closeness to the sensor or that there is motion under the sensor or that a return signal be sent to the sensor.

 

Why isn't user-friendliness considered.... it could be, let's use multiple sensors
I also learned that I was not the first person to reach the frustration level of taking "pen to hand." Lauren Cahn had already written about it in Reader's Digest: "Who's that standing in front of the sink, hands waving wildly as the water fails to flow? Why, it's you!"
Of course, there are logical questions that could have been asked to lead you to feeling a new approach to automatic dispensing was needed. For example, consider these questions from the Baldrige Criteria for Performance Excellence:
How do you determine key product and work process requirements?
How do you design your products and work processes to meet requirements?
How do you listen to, interact with, and observe customers to obtain actionable information?
How do you determine customer and market needs and requirements for product offerings and services?
How do you manage customer complaints? 
How does your management of customer complaints enable you to recover your customers' confidence, enhance their satisfaction and engagement, and avoid similar complaints in the future?
Advice
Until that multi-sensor device appears, here are some helpful suggestions from Jenesis International: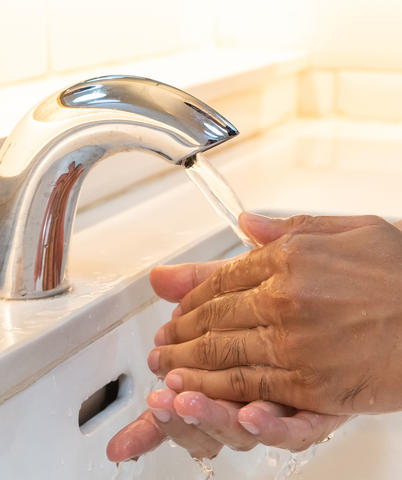 Credit: 
siam.pukkato/Shutterstock
Check for water droplets in the sink:
If you don't see any, don't frustrate,  go to another sink.  
Look for the sensor: This can help you properly position your hands.
Provide a good reflection: Position your hands as if they were a mirror to provide the best reflection back to the sensor.
Be patient: To conserve power the sensor may only be looking intermittently for a signal.
Move closer to the sensor: Sometimes the sensors operate over such a short range that you have to activate the sensor with one hand while washing the other hand.
Be even more patient: Some manufacturers require a "time out" after the sensor is activated to avoid a false trigger.
In the mean time, I will remain a frustrated, but ever more patient, Cheermudgeon in Gaithersburg, MD!
---
A Systems Approach to Improving Your Organization's Performance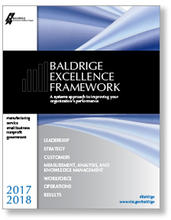 Baldrige Excellence Framework
The Baldrige Excellence Framework has empowered organizations to accomplish their missions, improve results, and become more competitive. It includes the Criteria for Performance Excellence, core values and concepts, and guidelines for evaluating your processes and results.
Available versions: Business/Nonprofit, Education, and Health Care
---