Results for CHAL-AMB2018-01-RS: Part Residual Strains
1. Overview
Figure 1 indicates the measurement positions for lattice strains on the X-Z plane centered on the midplane of the specimen.  Strains along the X, Y, Z directions were measured using neutron diffraction at the NIST Center for Neutron Research (NCNR) using the BT8 diffractometer. Measurement gauge volume is approximately a cube with edges that measure 1.5 mm. The measurements were conducted for an IN625 specimen and a 15-5 stainless steel specimen on the commercial build machine (CBM).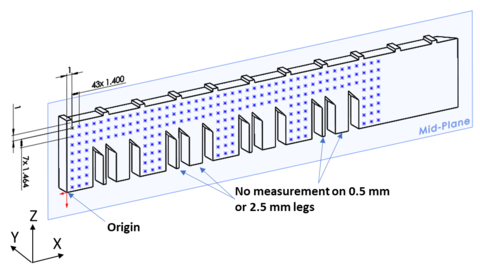 ---
2. Summary Results
Note that the measurement in the legs are not symmetric about the center of the legs in the X direction. Looking at the X-Z plane, with the Y direction into the page, the left most measurement locations in the legs are closer to the Y-Z surface. Measurement gauge volumes' centers are 1 mm from the Y-Z surface. for the left side of the legs. Whereas the measurement gauge volumes' centers are 1.2 mm from the Y-Z surface for the right side of the legs.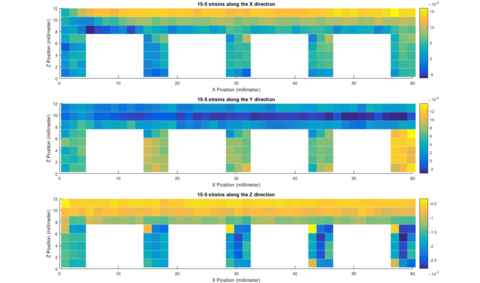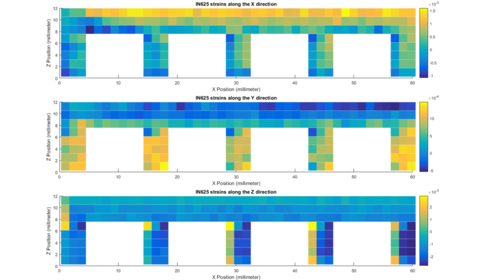 ---
3. Data Files
The lattice strain components along the X, Y, and Z directions for each material are presented in a data table as a tab-delimited text file. Each text file contains five columns, indicating the X position, Z position, ɛyy, ɛxx, and ɛzz respectively. The X and Z directions follow the convention established by Figure 1. The X and Z positions indicate the location (in millimeters) of the center of the measurement gauge volume, with the origin set at the bottom left corner of the X-Z plane.
Links to strain results text files:
Additionally, each of the results plots in Figure 2 and Figure 3 are provided as high resolution Portable Network Graphics (*.png) image files, and Matlab figure (*.fig) files.
Link to IN625 data and  to IN625 plot figure files:
| | |
| --- | --- |
| PNG files: | Matlab .fig files |
| | |
| | |
| | |
 Links to 15-5 data and to  plot figure files:
| | |
| --- | --- |
| PNG files: | Matlab .fig files |
| | |
| | |
| | |