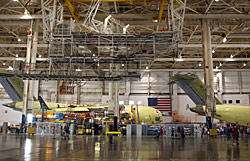 NIST's research and services have been integral to the competitiveness of many key manufacturing sectors—aerospace, automotive, semiconductors, consumer electronics, medical devices, satellite communications, and more.
NIST-developed electrical measurements, for example, helped U.S. businesses to harness the wonders of electricity during the first half of the 20th century and to apply them in motors, machines, and devices that transformed the U.S. and global economies.
Reliable technical data and measurement results underpin many of today's high-tech products. For example, in the mid-1950s, NIST published the first "phase diagram" for making a new type of ceramic material: lead zirconate titanate, or "PZT". (Akin to "recipes," phase diagrams show the processing conditions —chemistry, temperature, pressure—that yield a compound material with desired properties.) Today, PZT is one of the world's most widely used piezoelectric materials—substances that generate electric voltage when squeezed or stretched. PZT is used in ignitors in fuel lighters, gas stoves, welding equipment, as well as in other machines and devices. The workhorse material also is used in sensors, solid-state batteries for electronic circuits, actuators in pumps and specialized motors, measurement instruments, devices for positioning mirrors in giant telescopes (such as the Hubble), and ultrasonic cleaning equipment.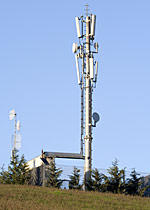 NIST also helped to launch the revolution in wireless communications in the 1970s when it measured and published the first phase diagrams for making different types of ceramics composed of barium, titanium, and oxygen. These diagrams were critical for commercial-scale manufacturing of a crucial component in wireless base stations that allows them to distinguish different cell phone signals. (T.A. Vanderah,"Talking Ceramics." Science, Nov. 8, 2002 Vol. 298)
The new ceramic materials were assembled into communications equipment and systems sold around the world. "The technological barrier to cellular communication," according to the National Research Council, "was overcome only in the 1970s with the discovery of barium titanate ceramics. These ceramics possess the requisite dielectric properties for avoiding signal broadening and heat buildup, while operating over a wide temperature range at a consistent frequency." (Minerals, Critical Minerals, and the U.S. Economy, 2008.)
Today, NIST researchers are working with industry to help them take full advantage of their investments in communication and information technologies. A strategic objective is integrating design, manufacture, and inspection of products across production networks. Through testbeds and other technical support, NIST is furthering the development and adoption of standards for exchanging product design and manufacturing information, including dimensional and geometric specifications, within companies and across supply chains.
NIST researchers also are furthering applications of leading-edge technologies, such as developing reliable simulation tools and computer models that will minimize trial-and-error in the design of new materials, products, and processes.