The first version of the of the USGv6 standards profile was published in 2008 and the USGv6 test program became operational in 2009.   In the years since the USGv6 Program (as the effort is commonly known) has been referenced in Federal Acquisition Regulations, used as the basis for USG Agency strategic plans and acquisition policies and has resulted in the detailed documentation and test of IPv6 capabilities in a large number of commercial products.
In November 2020, OMB issued memorandum M-21-07 "Completing the Transition to Internet Protocol Version 6 (IPv6)",  which outlines the Federal government's strategic intent "to deliver its information services, operate its networks, and access the services of others using only IPv6".   The policy also instructed NIST to update and expand its USGv6 standards profile and test program to facilitate this government-wide initiative.
In anticipation of this request, NIST and its partners undertook a significant revision of the USGv6 Profile and Test Program to update their technical specifications and streamline their use in Federal procurement processes. USGv6-r1, the first major revision of the USGv6 Program, has several objectives:
To update the set of Internet Engineering Task Force (IETF) specifications that form the basis for the USGv6 profile to their latest published version.
To add new specifications for important IPv6 capabilities that have been developed since the publication of the first profile. 

Highlights of these additions include technologies to support emerging use cases such as the Internet of Things, new forms of IPv6 transition technologies, support for "IPv6-Only" environments, and better support for specification of IPv6 enabled applications.

To remove specifications for IPv6 capabilities included in the first version of the profile, but that have since failed to achieve significant support in commercial products and network deployments.
To simplify the means of expressing product IPv6 requirements and capabilities.  

The same concise Capability Summary String (CSS) notation is used for expressing product requirements and the results of product testing.

Example-Host = USGv6-r1:Host + IPv6-Only + Core + Addr-Arch + Multicast + DHCP-Client + TLS + Link=Ethernet

A concise summary of the technical definition of each named IPv6 capability is provided by the USGv6 Capabilities Table.
More detailed guidance is provided on recommended minimal requirements for products to be considered "USGv6 Capable".

To separate the definition of IPv6 Capability Profiles from their specific use in USG acquisition programs so as to permit other user groups to re-use the capability profiles and their aligned product testing programs.To achieve this last goal, we have refactored the original USGv6 profile into two distinct documents.  

The NIST IPv6 Profile defines a basic taxonomy of IPv6 capabilities defined in terms of IETF specifications, resulting in named capability sets for common network functions and usage scenarios.    
The USGv6 Profile, inherits from and refines the generic NIST IPv6 profile for use in Federal IT acquisitions.

To update and consolidate the description and operation of the USGv6 Test Program to reflect the lessons learned in the implementation of that program to date.

Highlights of these changes include a more concise and consistent notation for documenting IPv6 capabilities, better support for testing in IPv6-Only environments, and an improved and streamlined Supplier's Declaration of Conformity (SDOC) for documenting test results.
This revision to the USGv6 Test Program strengthens the commitment to maintain synchronization with the industry driven IPv6 Ready Logo program so as to minimize testing requirements on vendors.
The USG move toward IPv6-only network environments dramatically increases the need to assure the quality, completeness and interoperability of the IPv6 capabilities in IT products and services.  While IPv6-only environments will greatly reduce the complexity of operating dual-stacked networks, it does imply that systems will not be able to rely on IPv4 as a fall back service.  This revision to the USGv6 Profile and Test Program is aimed at providing the tools that agencies can use to protect future investments in IPv6 enabled products and services.
Questions or comments about the USGv6 Program can be sent to the discussion list:

usgv6-program

[at]

list.nist.gov

(usgv6-program[at]list[dot]nist[dot]gov)
---
USGv6 Revision 1 Specifications:
NIST and its partners in the USGv6 Program have published the specifications below: 
Standards Profiles:

Test Program:

Additional supporting information:
---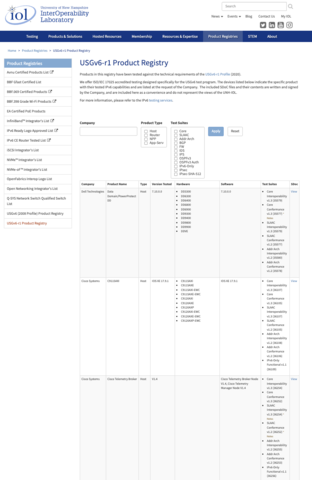 USGv6-r1 Test Program
Registries of Tested Products
The USGv6 Program maintains one consolidated registry of tested products hosted by the University of New Hampshire Interoperability Laboratory (UNH-IoL).   Vendors wishing to publicly share a Supplier's Declaration of Conformity (SDOC) test report from an accredited laboratory, can opt to have the SDOC listed in the registry.
It is important to realize that this is a registry of tested products, not a registry of "approved products".   You must read the SDOCs to ensure that the product in question has the IPv6 capabilities required for your given use case.
USGv6 Test Methods
A fundamental design goal of the USGv6 Test Program is to minimize burden on product vendors by leveraging to the maximum extent possible industry driven product test programs, only specifying USG specific test method deviations where USGv6 technical requirements differ from the industry driven profiles.
To achieve the above stated goal the NIST entered into an MOW with the IPv6 Forum to leverage the test  specifications from the IPv6 Read Logo Program as the primary source for test methods from the USGv6 Test Program.
To implement this approach the USGv6 Test Program uses Test Selection Tables that define USGv6 Test Methods by mapping and augmenting IPv6 Ready Logo test methods to match USGv6 Profile requirements.  
USGv6-r1 Test Selection Tables:  
Questions or comments about the USGv6 Program can be sent to the discussion list: usgv6-program [at] list.nist.gov (usgv6-program[at]list[dot]nist[dot]gov)
---
​​​​​​
---
USGv6 Laboratory Accreditation
The USGv6 program requires the use of accredited test labs that are periodically assessed and audited for compliance with ISO/IEC-17025 "General requirements for the competence of testing and calibration laboratories" and proficiency tested on the execution of specific USGv6 test methods.  
In addition to 3rd party accreditation, USGv6 test labs are required to participate in periodic interlaboratory comparisons in which accredited labs exchange detailed (packet level) traces from executing specific test methods against a chosen, common implementation under test. Through this process the laboratories ensure that their specific implementations of test methods and test verdicts are consistent.
For more details on the requirements and processes for laboratory accreditation, see:
Individual laboratories are not required to provide all test methods defined in the USGv6 Test Program.  The set of USGv6 specific test methods that a lab has been accredited to perform defines their scope of accreditation.    The USGv6 program defines individual test methods that span all tests for specific sets of defined IPv6 capabilities.  The list below outlines the defined USGv6 conformance, interoperability and functional test methods (see NIST SP 500-281Br1 for details).
F1 -

Core Capabilities

F2 - Stateless Address Auto-configuration

F3 - IPv6 Neighbor Discovery over Low Power

F4 - DHCPv6

F5 - Addressing Capabilities

F6 - Cryptographically Generated Address, Secure Neighbor Discovery

F7 - DNS

F8 - Network Support

F9 - Routing Protocols

F10 - Routing Protocols Customer Edge

F11 - Security

F12 - Transition Mechanism Capabilities

F13 - Network Management Capabilities

F14 - Multicast Capabilities

F15 - Quality of Service Capabilities

F16 - Link Specific Capabilities

F17 - Switch Capabilities

F18 - Network Protection Capabilities

A1 - Application and Service

A2 - IPv6 Only
Each USGv6 test laboratory will have an explicit scope of accreditation that lists which USGv6 test methods the lab has been accredited to provide.
USGv6 Accredited Test Labs:
USGv6 Test Method Validation:
2022 Inter-laboratory Comparison Requirements.

Implementation to test: Ubuntu Linux Desktop v 20.04.2
Capabilities to test: 2022-interlab-css := USGv6-r1:Host+Core+SLAAC+Addr_Arch+Link=Ethernet
Artifacts to produce:

Conformance test Traces
Interoperability test Traces
Resulting SDOC for the tests above.

UNH-IOL inter-laboratory comparison trace file.
CNLabs  inter-laboratory comparison trace file.
2019 Inter-laboratory Comparison Requirements:
Questions or comments about the USGv6 Program can be sent to the discussion list:

usgv6-program

[at]

list.nist.gov

(usgv6-program[at]list[dot]nist[dot]gov)