Achievements and Impact
Thermoelectric SRMs and validated measurement methods will allow for interlaboratory validation of data, thereby accelerating the selection and optimization of thermoelectric materials for rapid commercialization. To provide the thermoelectric materials community the means to calibrate Seebeck coefficient measurement equipment for bulk materials (an essential indicator of the conversion efficiency and the most widely measured property specific to these materials), NIST certified and released for purchase in late 2011 SRM® 3451, "Low Temperature Seebeck Coefficient Standard (10 K to 390 K)". Seebeck coefficient measurements are generally divided into the low (< 300 K) or the mid to high (> 300 K) temperature regime, due to different practical requirements in both instrumentation and sample contact methodology. SRM 3451 has been well received by the TE community throughout industry, national and federal research laboratories, and Universities, both domestic and foreign. To enable instrument validation and interlaboratory data comparison at high temperatures relevant to thermoelectric waste heat recovery, we have completed the development and certification of Standard Reference Material (SRM) 3452: High-Temperature Seebeck Coefficient Standard (295 K to 900 K), now available to the public. SRM 3452 is bar-shaped p-type boron-doped polycrystalline silicon-germanium alloy with a nominal composition of Si80Ge20. SRM 3452, together with complimentary SRM 3451, now provide certified reference materials traceable to the International System of Units for Seebeck coefficient measurements within the temperature range 10 K to 900 K with a broad overlap region (295 K to 390 K).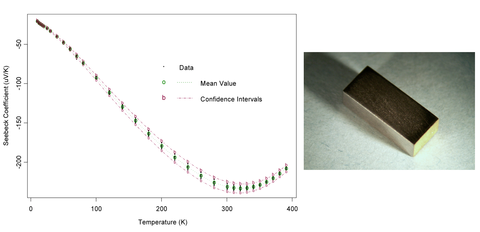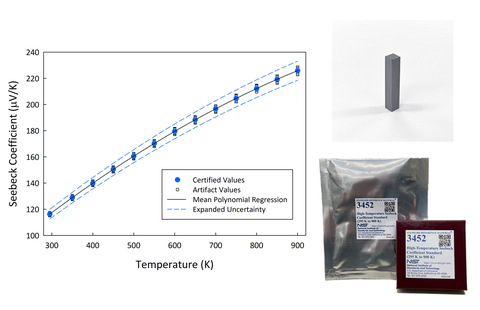 Technology and Knowledge Transfer
Our project provides recommended practices to both mitigate and quantify sources of error that were previously ignored by researchers. We have released the design innovations and technical details of our custom instrumentation through publication. To identify optimal measurement practices and protocols, we have designed and constructed an experimentally flexible high temperature thermoelectric measurement apparatus uniquely capable of in situ comparison of different contact geometries and measurement techniques that are commonly employed in both commercially available and custom developed instrumentation. We have demonstrated that the probe arrangement is the crucial influence on measurement accuracy, especially at high temperature where the thermal errors inherent in measuring temperature by surface contact are exacerbated. Using our custom instrumentation and expertise, we have completed a comprehensive experimental study establishing recommended measurement practices and protocols, enabling the development of a thermal contact error model to guide researchers in designing improved instrumentation and in developing comprehensive uncertainty limits. Further, to identify errors that are not experimentally accessible, we developed a novel approach to simulate and model Seebeck coefficient measurements for the first time, using finite element analysis. These protocol studies complement our comprehensive analysis of 200 years of thermoelectric measurement literature, which created a resource for best measurement practices in the form of a widely accessible review paper. Material systems we have provided measurement data for include: chalcogenides, clathrates, skutterudites, oxides, antimonides, SiGe, half heuslers, stannites, nanocomposites, and flexible polymer films.
References:
J. Martin, Z.-Q. Lu, W. Wong-Ng, S. Krylyuk, D. Wang, and Z. Ren, Development of a High-Temperature (295 K to 900 K) Seebeck Coefficient Standard Reference Material, Journal of Materials Research 36(16), 3339-3352 (2021). DOI:10.1557/s43578-021-00362-8.
N. D. Lowhorn, W. Wong-Ng, Z.-Q. Lu, J. Martin, M. L. Green, J. E. Bonevich, E. L. Thomas, N. R. Dilley, and J. Sharp, Development of a Seebeck Coefficient Standard Reference Material, J. Mater. Res. 26, 1983 (2011).
J. Martin, T. Tritt, C. Uher, High Temperature Seebeck Coefficient Metrology, J. Appl. Phys.-Focused Review 108, 121101, (2010).
J. Martin, Apparatus for the High Temperature Measurements of the Seebeck Coefficient in Thermoelectric Materials, Review of Scientific Instruments, 83, 065101 (2012).
J. Martin, Protocols for the High Temperature Measurement of the Seebeck Coefficient in Thermoelectric Materials, Meas. Sci. and Technol. 24, 085601 (2013).
J. Martin, Error Modeling of Seebeck Coefficient Measurements Using Finite-Element Analysis, J. Electr. Mater. 42, 1358-1364 (2013).
Y.G. Yan, J. Martin, W. Wong-Ng, M.L. Green, X.F. Tang, A temperature dependent screening tool for high throughput thermoelectric characterization of combinatorial films, Rev. Sci. Instrum. 84, 115110 (2013).